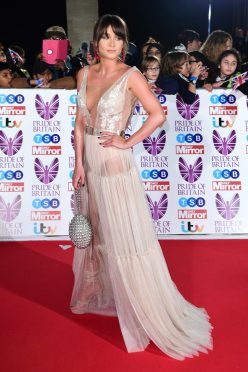 Coronation Street star Brooke Vincent has said she has quit smoking and cut back on drinking in preparation for competing in Dancing On Ice.
The actress, who plays Sophie Webster in the ITV soap, will compete against co-star Antony Cotton and famous faces including Cheryl Baker, Kem Cetinay, Donna Air and Candice Brown when the skating show returns to television.
She said: "I've stopped smoking for the show so I'm not out of breath when they are telling me I'm getting scores of nine and 10!
"I've come on a journey with my fitness, not really drank, have been eating well, training and it's been a lifestyle change for me.
"Dedicating this time to myself and to my body, it's just a mega challenge for myself so I'd like to come away from it with some self-satisfaction, saying well done and patting myself on the back."
The 25-year-old said she used to watch the show with her grandmother and always dreamed of taking part but admitted she is scared of potential criticism from the judges.
She said: "I don't want to cry, what if they say something horrible
and I cry?
"I do take criticism well with anything whether it's a scene at work, I like criticism and I like to know what I can improve.
"That's going to be a massive thing for me, to take criticisms on board and go back the next week having improved."
The soap star said she is also going to try to embrace the sequins and colourful costumes for the show, adding: "I am very much a trainer, black jeans, black top kind of girl.
"I generally look like I'm going to a funeral most days but I'm going to embrace my inner Paris Hilton for this. I'm going to go with whatever they want to give
me!"
Her fellow Corrie star Cotton, who plays Sean Tully on the cobbles, said his main fear for the show is losing fingers.
He said: "It's really dangerous. I'm glad that nobody has to pick me up, but the downside is I have to pick my partner up.
"I hope I don't end up with a Russian shot putter as a partner! A 6ft Amazonian woman coming towards me!
"I want someone who is 3 foot, 3 stone that I can wing round. I've also got this weird fixation about slicing my fingers off. I don't know why."
Cotton confessed is he "very competitive", but said there would be no rivalry between him and Vincent.
He said: "I would never be competitive against Brooke as she's like a little sister to me and I adore her.
"Everyone else I will be competitive with, but not Brooke. I'll be the opposite with Brooke."
Dancing On Ice, hosted by Phillip Schofield and Holly Willoughby, returns to ITV on January 7 at 6pm.