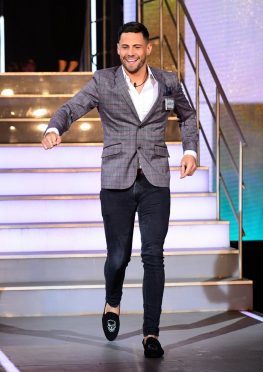 Celebrity Big Brother stars Andrew Brady and Courtney Act intrigued fans further with their relationship on Saturday night's show.
The pair were seen sneaking into the toilet after former The Apprentice contestant Brady survived Friday night's vote-off.
Brady avoided departure alongside Ann Widdecombe and John Barnes as journalist Rachel Johnson and ex-police officer Maggie Oliver became the second and third housemates to be evicted.
Courtney, the drag queen alter ego of reality TV star Shane Jenek, followed Brady into the toilet who was heard saying: "Shh, don't say anything".
"Don't get f****** lipstick on me," Brady continued before adding: "push it in".
As they leave the bathroom moments later, Courtney said: "That was probably a lot more suspect than it looked," while Brady joked: "Yeah I know, my dick's hurting after that."
The duo have grown close since entering the Big Brother house and viewers on social media were keen to know what their joint toilet break involved.
@TheDGrimmett tweeted: "So Andrew, what were you and Courtney up to just then?"
@BBNutters posted: "Wonder what Courtney was doing with Andrew in the bathroom! They also forgot to turn the taps on!"
@LewisH92 wrote: "Push it in? Right. I'm curious to know what Andrew was helping Courtney with."
@ILoveRobz posted: "Did I hear a quick kiss from Andrew and Courtney?????"
After leaving the bathroom the duo discussed the latest eviction with Courtney admitting to fearing for Brady's survival.
The Rupaul's Drag Race star told Brady: "Initially I was like Andrew won't go, there's no possibility of that and then I was looking when Dapper (Laughs – comedian Daniel O'Reilly), and Maggie (Oliver) is such a favourite, like it could be like and I just didn't know and it is possible that he is going."
"Even last night I'm like well Andrew's going tomorrow and then I'm like 'Oh, could be going'."
"But I'm glad that you're not, there's still more fun to be had," Courtney added.