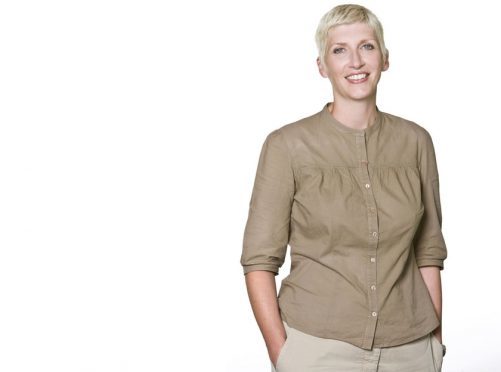 Former BBC Scotland health correspondent Eleanor Bradford has claimed she was paid "around £10,000" less than some of her male colleagues in similar roles, prompting her to leave the BBC after nearly 15 years.
Ms Bradford is the only person named in a list of 14 cases "of inequality of pay" cited by the Digital, Culture, Media and Sport (DCMS) Committee as they publish written evidence ahead of their questioning of the BBC Director-General on Wednesday over the corporation's gender pay gap.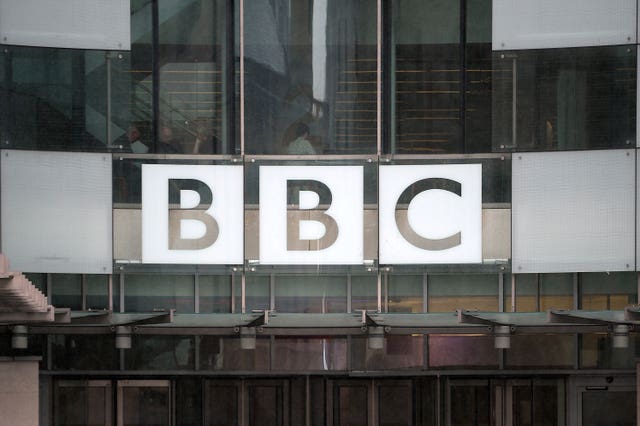 The remaining 13 cases have been put forward anonymously as "most women do not wish to give their names out of concern for their BBC careers", the document states.
Bradford, who was health correspondent between 2001-2016, said: "I discovered I was one of the lowest-paid correspondents at BBC Scotland, despite regularly appearing on UK wide news and delivering exclusive stories.
"I regularly asked for a pay rise, and eventually cited equal pay legislation. This led to an immediate increase of £5,000 but it was not backdated. I remained around £10,000 below some male colleagues who were doing identical correspondent jobs.
"In one of my annual appraisals I was told I was a 'model correspondent'. I left the BBC."
Listed anonymously is a TV news presenter who spoke of a pay rise offered last year.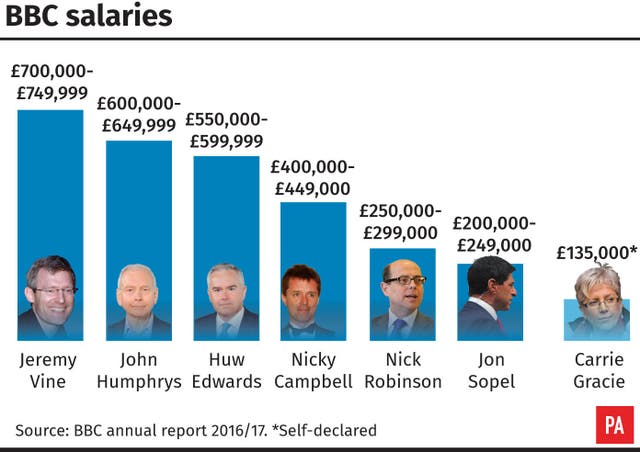 The presenter says: "It became apparent that for nearly three years I had been sitting next to a man doing an identical job who was being paid tens of thousands of pounds more.
"As we are both BBC staff that means I have not just missed out on pay, but on pensions contributions too. I am told that we are now being at the same rate per day, but there is no transparency."
A national radio presenter, who describes themselves as an "award-winning broadcaster with more than 20 years' experience", spoke about being offered the chance to host what they say is a "flagship arts programme" at the corporation.
They claim they discovered a pay gap, where the existing male presenter was earning 50% more than them per programme, but when they asked for equal pay were reportedly denied.
They added: "I refused to back down and eventually was given the same rate as my male colleague and it was backdated."
A news programme presenter says that in "absolute terms I am well paid and I recognise and appreciate this", but says they discovered that, following last year's talent list salary reveal, they are reportedly paid "hundreds of thousands less than some of my colleagues.
"I am also paid £45,000 less than my immediate male predecessor. No one has explained to me how such a discrepancy can be justified."
Also on the list is a sports broadcaster who says they have been employed by the BBC for "30 years, both staff and freelance".
The person in questions lists themselves as presenting "major sports coverage on national radio".
Their citation reads: "In 2017 my contract was worth £19,000 for 50 days, reporting and presenting. This is an average day rate of £380."
They further add that they are paid £500 when presenting one of the corporation's "flagship radio sports programmes", adding: "I have been told the male presenter is paid £1,200. Since raising the issue of equal pay I have been offered £650 which is still a long way short of equal pay."
"What you are worth is solely at the whim of management who essentially in sport are always men. I'm at the top of my game, knowledgeable and with three decades of experience, yet I'm scratching around to earn a living."
A sport editor claims "four men doing the same job have confirmed their salary is higher by up to £10,000."
The cases listed have been drawn from the group of 170 women challenging the BBC over equal pay.
Last week a list of big-name male BBC employees, including Radio 4 Today host John Humphrys, Huw Edwards, Nicky Campbell, Jon Sopel, Nick Robinson and Jeremy Vine, said they had agreed to salary reductions.
In a statement, a BBC spokesman said: "The BBC is committed to equal pay, and we don't accept the assertion we have not been complying with the Equality Act, nor do we offer inferior contracts based on someone's gender or race.
"We want to help women progress in their career and have set out ambitious targets to close the gender pay gap, as well as for half of roles on air and in senior management to be filled by women.
"We've also set out action to achieve them. We have already set out how we plan to deliver real pay transparency for our staff, and today we'll publish proposals to significantly change how we manage on-air pay so we have a clear, transparent and fair system for the future."