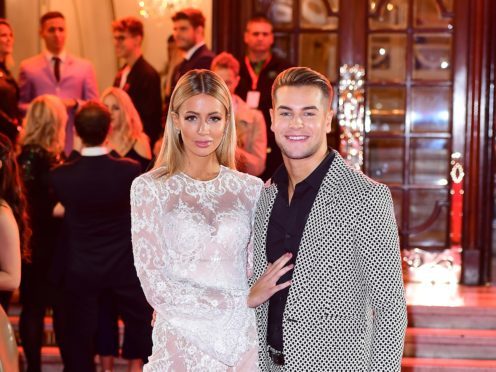 Love Island star Olivia Attwood has confirmed that she and Chris Hughes have ended their relationship, and that their "raw" split will be broadcast on their spin-off show.
Attwood and Hughes, who came in third place on the ITV2 reality dating show last summer, ended their relationship last weekend.
She has now told ITV's Loose Women that he broke up with her over the phone and that their first meeting after that was filmed for their own reality show, Chris & Olivia – Crackin' On.
Attwood said: "So, the rumours are unfortunately true – we have split this time.
"As we are filming the show, it's something we haven't been able to avoid talking about. People are now unfortunately going to see it."
She said that Hughes "made the decision" to end their relationship at the weekend, after she had sent some drunken tweets during a night out with her friends, one of which was directed to her ex-boyfriend.
She admitted that it was "distasteful and not funny" and that "if Chris had done it, I'd be annoyed".
But Attwood added that she "stood by Chris through all sorts of things", including the reports of his text messages to Katie Price.
She said that Hughes had spoken to her for a few minutes on the phone to end their relationship, but that a few days later, they had to film for their TV programme, meaning that their first time meeting since the split would be caught on camera.
"I text him and said Chris, I'm really unhappy," Attwood said.
"I know we'd signed up to do a reality TV show – (but) for that raw moment (to be filmed)… (I said) if you're serious about this we can follow the reality without having strangers in the room for that actual moment."
She said that he had "already communicated" with the programme's production team, and that she felt like she was "catching up".
"That was the first time I saw him," she added.
"Us breaking up is the rawest. I'm not going to be able to watch it.
"It was horrendous to live it. I wanted to wait until cameras had gone and be with Chris on my own."
Attwood and Hughes, whose fiery relationship was one of the biggest talking points among Love Island fans during the latest series, have been reported to have broken up several times, but she said that this time Hughes is "serious".
Holding back tears, she added: "It's 100% real, it's not going to make for comfortable viewing because we're both in absolutely bits.
"I feel awful. I'm quite ballsy and always making jokes, I've been crying for three days straight and that's not me at all. I don't cry. It's hit me a lot harder than I ever thought it would."
Attwood said that their new ITVBe programme has now finished filming, and denied reports that the series had been cut short because of their break-up.
In a message from Hughes to Attwood, read out on Loose Women, he said his "heart is genuinely broken" and that he supported her decision to speak about their split on TV.
Love Island winners Kem Cetinay and Amber Davies, who won a share of £50,000, ended their romance in December.