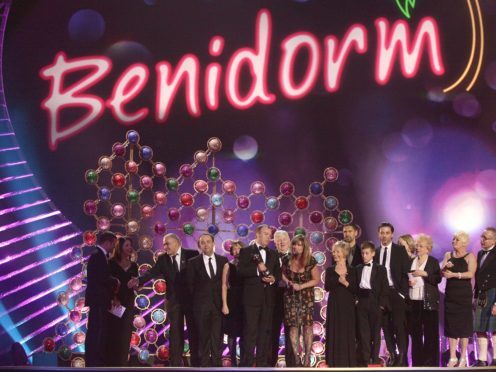 Benidorm creator Derren Litten marked 10 years of the popular sitcom with a heartfelt message to his cast and crew.
The writer and director was seen addressing the team behind the long-running ITV show in a special anniversary episode on Tuesday night.
Reminiscing of the first series he said he expected to get a "free holiday in Spain" and perhaps meet some new friends.
"Well Spain is now my home and I have found a family," he said with a tear in his eye.
The one-off documentary, which previews the sitcom's return for a 10th series next week, saw cast members discuss their relationship with the show and their characters as well as a behind-the-scenes look around the city, led by Litten.
There were also a number of secrets revealed by the cast including details surrounding a fight between characters Kenneth Du Beke (Tony Maudsley) and Joyce Temple-Savage (Sherrie Hewson).
Recalling the scene, which saw Joyce punch Kenneth and send his two front teeth flying with blood pouring out his mouth, Maudsley said: "People always say, 'How did they do that?'."
He revealed prior to filming he had knocked his teeth out for real, adding: "By the time I came to film I was halfway through having implant surgery to have my two teeth replaced. Derren phoned me up and said, 'Do you mind if I write it into the show?'.
"What you see me spitting out of my mouth is half a piece of chewing gum," he said.
Litten called the past decade the "best 10 years of my life" in a message on Twitter as the documentary aired.
Viewers on social media threw their support behind the writer as they looked forward to the series' return.
@DJDaleDixon wrote: "Amazing watch tonight #Benidorm 10 years on! Thanks for the laughter @DerrenLitten you should be proud! Keep them coming."
@Sizzlewifey tweeted: "Loved watching all the old clips, ten years of laughter and tears, well done sir."
@RieWorley wrote: "Ten years of #Benidorm was brilliant! Great to see the Garveys again. Here's to the next 10 years. Can't wait for next week."
Benidorm returns to ITV on February 28 at 9pm.