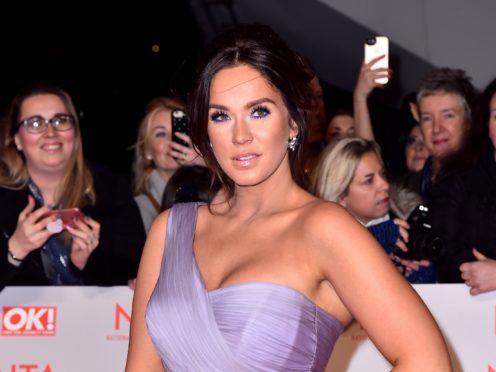 Vicky Pattison has told of the guilt she felt leaving her mother and sister to "deal" with her father's drinking problem, to go to university and start her TV career.
The reality TV star, best known for appearing in Geordie Shore and for winning I'm A Celebrity… Get Me Out Of Here! in 2015, also said she used to worry she would follow in his footsteps.
She told The Sun's Fabulous magazine of her father John's 10-year battle with alcoholism, and said: "I used to panic I was my dad's daughter."
She said that before meeting her fiance John Noble she was "very scared that I wasn't ever going to meet anyone and I'd end up on my own like my dad".
Pattison said she has "always been a daddy's girl and I adore him", but that as she got older, "I got scared that I was him".
The 30-year-old TV star, who has previously spoken out about her desire to cut down on drinking herself, said she used to blame herself for the problems facing her father, who has "drunk himself to two heart attacks and a stroke".
"The rational side of my brain knows it's not my fault," she said.
"But the emotional side thinks, 'Is there something I could have done? Have I been so bad that he doesn't love me enough to stop?'.
"And I felt guilty for leaving my mam and sister (Laura, 26) to deal with it.
"I couldn't wait to go away to uni, work seasons abroad, go into the Geordie Shore house, move to London… but not because of ambition.
"That was (me) not wanting to be around something else. It's awful the things you think, and it's taken me years to come to terms with it."
Pattison said her dad would "lock himself away, just wanting to drink on his own", and that it "created a really terrible atmosphere" for the family.
"I've watched my strong, breadwinning, funny, life-and-soul-of-the-party dad become an old man," she said.
"It's the worst thing that's ever happened to me."
Pattison revealed her mother Caroll left her father a year ago after a 35-year marriage, and that he is currently sober and trying to recover.