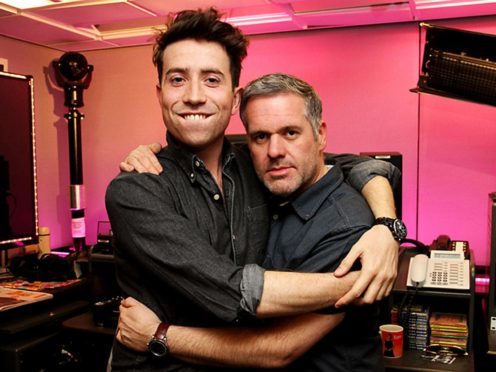 Chris Moyles has joked that Nick Grimshaw has found a "secret tunnel" to leave the BBC Radio 1 Breakfast Show.
Moyles hosted the radio station's flagship early morning show before Grimshaw took over in 2012.
Commenting on the news of Grimshaw's impending departure, Moyles tweeted: "Well done @grimmers, you found the secret tunnel that we left in 2012.
"Tradition says you now have to go to the pub all day! Congratulations pal."
Moyles then diverted his attention to incoming host Greg James, tweeting him: "Hey @gregjames. Just confirming you're still up for doing a midnight dj set at my new Late Night Sunday club night starting in September… just about to print the posters…"
Following the announcement that Grimshaw will be doing a job swap with Radio 1's drivetime host James, Grimshaw said he was "grateful" he was able to live his dream.
In an Instagram post, he shared a picture of himself on his first day hosting the Breakfast Show and said it was "always my dream" to helm the programme.
He added: "I had the time of my life. I've decided it's time for a change and a new show. I love Radio 1 and can't wait to get on with the new time slot and the removal of all alarms from my house.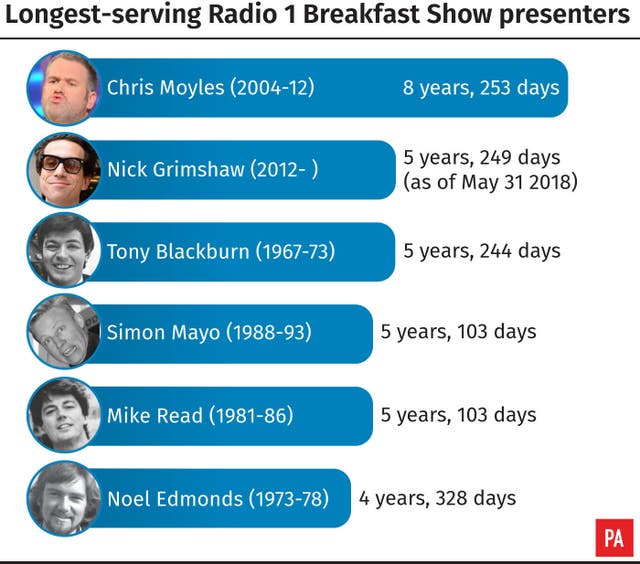 "I'm so happy to be swapping shows with my friend and yours @gregjames17 and can't wait to wake up to him each morning. Not literally. Just on the radio. Unless he's up for it."
James shared a snap of himself and Grimshaw together on Instagram, writing that he "cannot wait to take over the most famous radio show in the world".
Commenting on their live on-air reveal on Thursday's Breakfast Show, James joked the picture showed them looking "all sweaty and panicky moments before we broke the news".
Other stars from the broadcasting world took to Twitter to react to the news of Grimshaw's exit.
Presenter Matthew Wright referenced his recent decision to step down from hosting his Channel 5 show, tweeting: "See @grimmers has quit radio 1 – looks like I've started a trend!! #moveon #getgoing #onlyonelife #unlessyouarehindu."
Wright announced at the beginning of May that he would be stepping down from The Wright Stuff after presenting the weekday show since its launch in September 2000.
Radio DJ Annie Mac tweeted: "'I ain't had a good nights sleep since god knows when' @grimmers quoting J Hus to announce his departure from @BBCR1 Breakfast Show – WE LOVE YOU NICK."
BBC Radio 1 star Clara Amfo said Grimshaw was "doing feelings" while announcing his departure, before congratulating James on his new job.
TV presenter Matt Johnson wrote: "Congratulations @gregjames for getting the @BBCR1 breakfast gig and well done @grimmers for being so brilliant for 6 years."