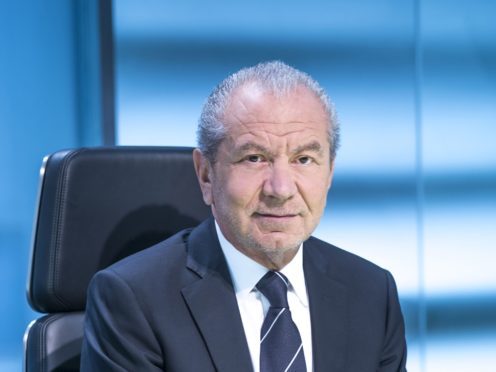 A Labour MP has called for the BBC to cut ties with Lord Sugar following his "racist tweet", in which he likened the Senegal football team to beach vendors in Marbella.
The Apprentice boss has faced criticism for tweeting a picture of the Senegalese World Cup squad which had been edited to include a picture of handbags and sunglasses laid out on sheets.
In the now-deleted tweet, Lord Sugar wrote: "I recognise some of these guys from the beach in Marbella. Multi tasking resourceful chaps."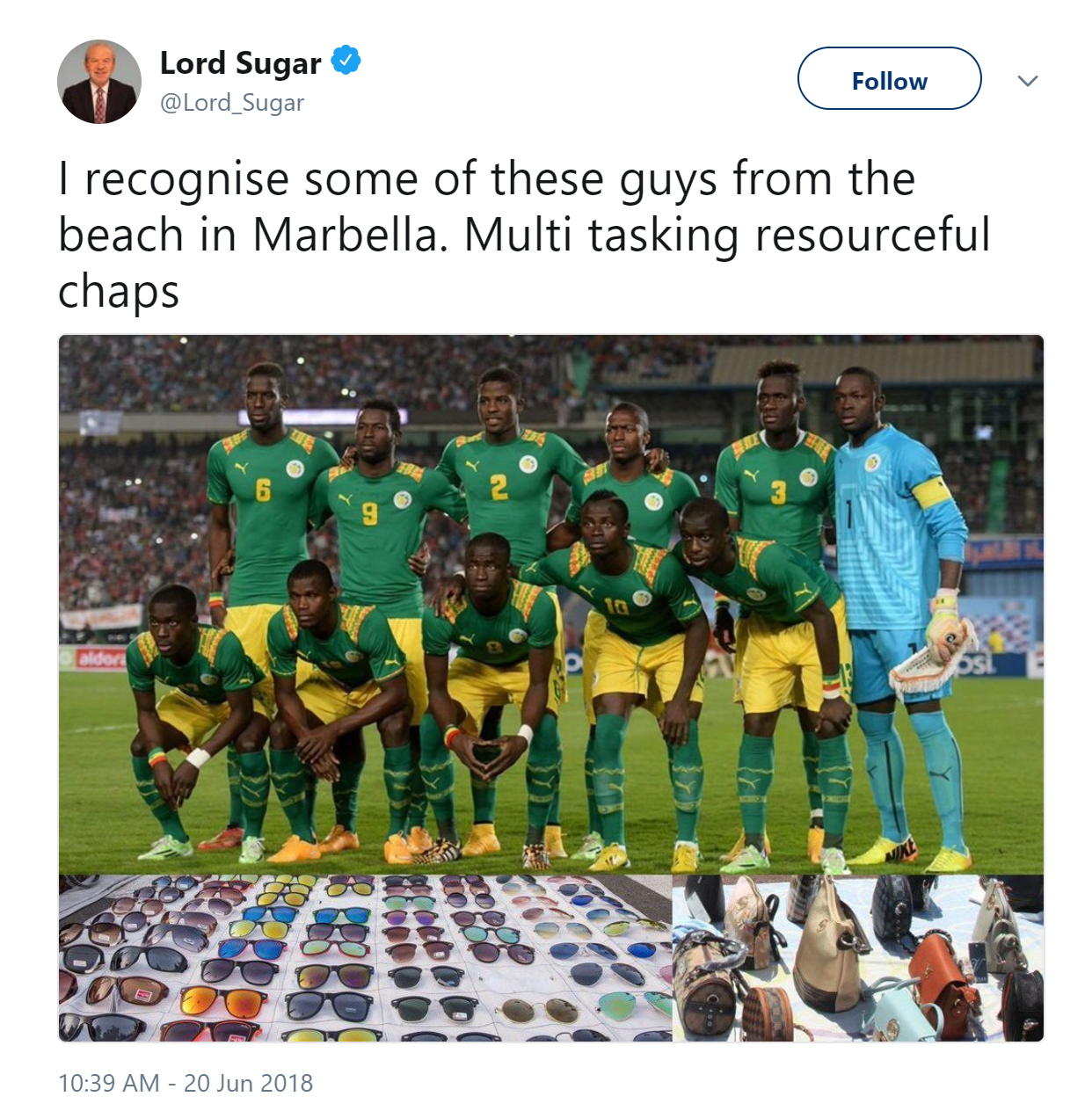 Dawn Butler, Labour MP for Brent Central, has said the BBC, which airs Lord Sugar's reality programme The Apprentice, should take "swift action" against him.
Ms Butler tweeted a screengrab of a section titled "Treating everyone equally" from the BBC's Code of Conduct, which states they do not "tolerate discrimination of any kind".
She wrote, referring to The Apprentice star's common phrase: "Take a look at the BBC's Code of Conduct. It's time the @BBC pulled @Lord_Sugar into the boardroom and told him 'You're Fired'."
Ms Butler had earlier tweeted that she was "very troubled after seeing @Lord_Sugar racist tweet".
She added: "I will be writing to the House of Lords Commissioner for Standards and the @BBC calling for an immediate investigation. Racism has no place in Parliament or society.
"Swift action must be taken."
A Senegal fan has also criticised Lord Sugar's tweet about his national team.
Speaking in Moscow the day after Senegal's 2-1 victory over Poland at the World Cup in Russia, Pape Ndiaye, 47, told the Press Association that he was "absolutely" offended by the tweet, and called it "bullshit".
Lord Sugar initially defended the tweet, saying that he thought it was "funny" and that people had misinterpreted it.
But the 71-year-old TV star and business mogul later apologised, writing: "I misjudged me earlier tweet. It was in no way intended to cause offence, and clearly my attempt at humour has backfired. I have deleted the tweet and am very sorry."
Following his apology, a BBC spokesman said: "Lord Sugar has acknowledged this was a seriously misjudged tweet, and he's in no doubt about our view on this.
"It's right he's apologised unreservedly."
The Apprentice, which sees business candidates compete against each other for a £250,000 investment from Lord Sugar, is due to air its 14th series later this year.
Prior to deleting the tweet about the Senegal team and his apology, Lord Sugar had said his post was meant to be a "joke".
In a now-deleted tweet, he said: "Just been reading the reaction to my funny tweet about the guy on the beach in Marbella. Seems it has been interpreted in the wrong way as offensive by a few people. Frankly I cant see that I think it's funny. But I will pull it down if you insist."
Lord Sugar had also tweeted at people who had criticised it, writing to one: "I cant see what I have to apologise for … you are OTT … its a bloody joke."
His post came as the BBC published a landmark report on career progression for its employees of black, Asian and minority ethnic backgrounds, in a drive for "substantial culture change".