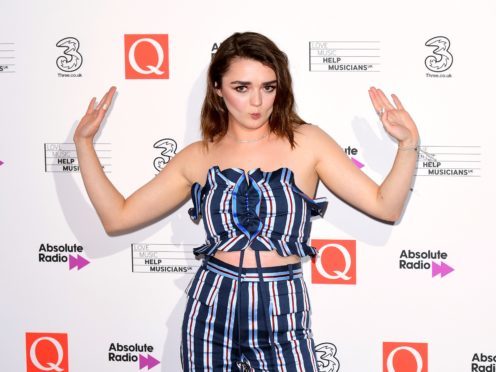 Maisie Williams has added a Game Of Thrones-inspired tattoo to her growing collection of inkings.
The actress plays Arya Stark in the hit fantasy drama and got the new ink to commemorate her years on the show, which will air its final series next year.
In an Instagram post, the 21-year-old showed off three new tattoos, but the most striking was the simple text reading "No One" on the back of her neck.
The tattoo is a reference to her character Arya's journey to become an assassin with the Faceless Men.
Her other new pieces of skin art were a flower and the words "Little Rascal" on her arms.
She visited celebrity tattoo artist Keith McCurdy of Bang Bang NYC, who has inked the likes of Rihanna and Williams' Game Of Thrones co-star Sophie Turner.
Turner, who plays Arya's sister Sansa Stark, last year revealed the pair have matching 07.08.09 tattoos, marking the date they both found out they had landed their roles in the hit show.
Williams is among a growing number of stars getting tattoos in honour of their iconic TV or film roles.
Here are four other examples of commemorative inkings from casts …
1. 13 Reasons Why cast and Selena Gomez
Selena Gomez, who executive produces the Netflix teen drama series – about a girl who takes her own life – and some of its stars got a semicolon tattooed on their arms, in reference to its link to depression and mental health.
One of its stars Tommy Dorfman, who got the tattoo with Gomez and co-star Alisha Boe, explained: "The ; symbol stands for an end of one thought and a beginning of another. Instead of a period, authors use the semicolon to continue a sentence. For us, it means a beginning of another chapter in life, in lieu of ending your life.
"I struggled with addiction and depression issues through high school and early college. I reached out and asked for help. At the time, I thought my life was over, I thought I'd never live past the age of 21.
"Today I'm grateful to be alive, in this new chapter of life in recovery, standing with my colleagues and friends, making art that helps other people."
2. Breaking Bad's Bryan Cranston and Aaron Paul
The hit drama's leading pair, Bryan Cranston and Aaron Paul, got matching tattoos when the show ended – the Breaking Bad chemical-inspired symbol on their fingers.
Cranston, who played Walter White, told GQ in 2013: "I wanted something … something that would give me private personal pleasure, like when I pass by and catch a glimpse of a picture of my mom, or my old manager, people who are gone now.
"And it seemed appropriate. I mean, Breaking Bad changed my life."
3. Lord of the Rings cast
The cast of Peter Jackson's Lord of the Rings films, including Elijah Wood, Sir Ian McKellen, Viggo Mortensen and Orlando Bloom, made sure to have a lasting memory of the fantasy films by getting the same tattoo.
They went for the word "nine" in JRR Tolkien's fictional language Elvish, after filming wrapped for the first movie in the series in 2001, to represent the nine of them who got the ink.
Two years ago, Bloom shared a throwback snap of the group showing off their tattoos at the time.
4. Avengers cast
In May, Robert Downey Jr revealed that most of the original Avengers cast had tattoos in honour of the Marvel blockbuster series.
He told entertainment magazine Entertainment Weekly: "Five of the original six Avengers got a tattoo.
"And the sixth was the tattoo artist, who gave it to five of us, the one who opted out being Mark Ruffalo. It was (Scarlett) Johansson's idea, and she and (Chris) Evans did it in New York.
"Then their New York guy, Josh Lord, who is amazing, flew out to LA, he did me, did (Jeremy) Renner, and then we just bullied (Chris) Hemsworth into doing it, and he got it."
The stars each had a modified version of the Avengers logo etched permanently onto their bodies.