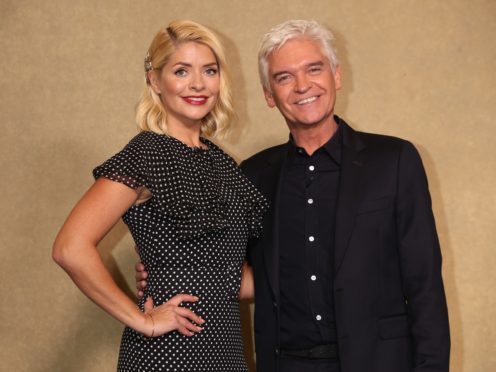 Prime Minister Theresa May, Doctor Who star Jodie Whittaker and X Factor host Dermot O'Leary all feature in a special video to celebrate This Morning's 30th anniversary show.
In a clip at the beginning, host Phillip Schofield can be seen in the back of a taxi stuck in traffic, trying to get to the broadcast.
After he phones co-star Holly Willoughby, telling her "I'm so sorry, I need help", she assures him: "Don't worry, I'm on it."
She calls in assistance from O'Leary, who says: "What? 30th with no Phillip … not on my watch! I'll call in some favours," before newsreader Mary Nightingale picks up the phone, reassuring him: "Don't worry, I know exactly who to call."
She summons help from Whittaker, who in turn calls Keith Lemon, who says: "I know someone who can help."
Mrs May can then be seen on the phone to Schofield, telling him: "It's This Morning's 30th birthday, you absolutely have to be there. I know just the people who can help you."
She then instructs him to follow the sign to the Parachute Regiment's display team, the Red Devils, warning him: "Remember, Phillip, the nation's going to be watching. Good luck."
Schofield can then be seen putting on a personalised jumpsuit, gloves and sunglasses and getting into a small plane with the team before skydiving over the This Morning studios at Television Centre to land in time for the live show on ITV.
Willoughby, waiting for him outside, says: "What time do you call this?"
The special anniversary programme also saw a performance from The Bootleg Beatles, in reference to its Liverpool roots, and had an audience full of viewers who have been affected by the show.