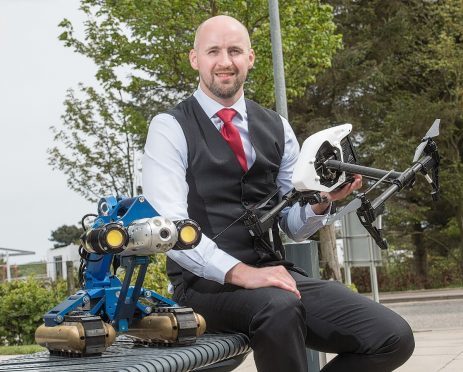 A young Aberdeen-based drone company is enjoying take-off in more ways than one after taking part in an innovative business accelerator scheme.
Innovair was launched only two years ago by Stuart Lawson and Andrew Johnston.
The firm credits the accelerator programme – run by business support organisation Elevator – for its recent success in securing three contracts worth a "six-figure sum".
Mr Lawson said: "Being selected to join the accelerator programme was the best thing to happen to us.
"By going back to basics and being taught to think outside the box about our business, we learned a lot about ourselves and how best to refine and restructure our offering.
"We certainly didn't expect our efforts to pay-off so quickly when we pitched to prospective clients."
He added: "The sky is no longer the limit for us and with our unique offering and business we look forward to accomplishing many more great things."
Innovair was part of a fifth intake of entrepreneurs to Elevator's accelerator scheme, with sessions held over 12 weeks and led by business leaders and mentors.
The programme is designed for "ambitious, early-stage business founders with highly innovative, technology enabled business ideas that show high-growth potential".
Accelerator manager Jules Lancastle said: "We challenge companies like Innovair to think about their business in a way that enables rapid scale to support their move into the fast lane.
"We are delighted that the knowledge and insight Innovair have gained through their Elevator experience will help them play a part in the future economic prosperity of the region; that is the prize we are all striving to win."