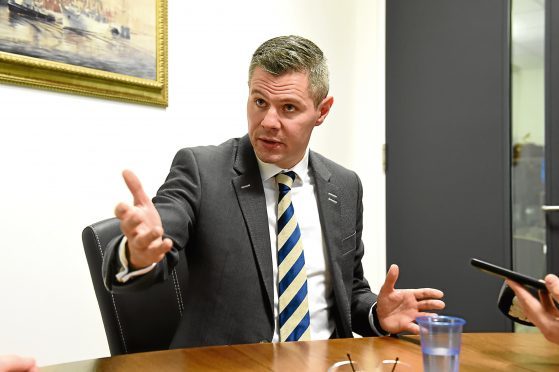 The Scottish Government have thrown a lifeline to ailing firms being hammered by business rates – but critics have called for more action.
Last night Finance Secretary Derek Mackay set out a range of proposals, including extending a 12.5% cap on the increases for hospitality outlets and north-east offices.
Firms will also become exempt from rates increases for 12 months after they improve or expand their premises, rates on new builds will be scrapped for the first year.
Nurseries will also be a major beneficiary of the government's commitment to implement the majority of the recommendations of the Barclay Review of the rates system.
The massive rise in rateable values (RV) caused outrage in the north-east with the increases based on property values from before the full effects of the oil and gas downturn took effect.
After months of pressure – including a campaign by the Press and Journal – Mr Mackay in February belatedly capped this year's rise at 12.5% in the hospitality and office sectors.
Aberdeen and Aberdeenshire councils have also launched their own local rates relief packages to help other outfits.
In July, an exclusive survey conducted for the P&J by Aberdeen and Grampian Chamber of Commerce found that a third of north-east businesses said they would have to cut staff numbers due to spiraling rates.
In a survey of 169 firms, more than half (58%) said they would have to reduce costs as a direct result of being landed with the huge extra expense even as they grapple with the effects of the oil and gas downturn.
Staff training and development would be pared back by 42% of respondents and 30% are being forced to increase costs for customers. But most worrying for the region's workforce is the proportion who say they will have to reduce staff numbers – some 35%.
Last night James Bream, research and policy director at the chamber, said: "While confidence has improved in our region the fundamentals of the economy remain challenging and the recent Barclay Review did nothing to change the impact of the 2017 rates revaluation on hard pressed companies in the North-east.
"For that reason Mr Mackay has done the right thing to extend the commitment made in 2017/18 into 2018/19 as early as possible. This will be welcomed by the relevant businesses who can now begin to plan ahead with more certainty, however we cannot forget those who'll not benefit from this scheme and we'll work with local partners in the year ahead too."
CBI Scotland director Hugh Aitken said: ""For the Scottish Government to truly go 'beyond Barclay', we would strongly urge them to give serious consideration to linking inflation increases to CPI rather than RPI. "This remains an ongoing priority for many companies and would help deliver a business rates regime that really is simpler, fairer and more competitive.
"The Scottish Government's swift response to the Barclay Review is welcome, as is the intention to put in place a concrete plan for implementing recommendations before the end of 2017."
But Aberdeen South Conservative MP Ross Thomson said that he did not think Barclay went far enough and a fundamental review of a "broken system" was required.
The review recommended that leisure centres, some golf clubs, private schools and universities should be brought fully under the business rates system rather than enjoy exemptions under their charitable status.
Mr MacKay said a decision was still to be made.
Last night SNP group leader of Aberdeen City Council Stephen Flynn called for the city council to extend its own £4million rates relief package.
He said: "It took the administration four months to agree to SNP rates relief earlier this year so I'm hoping they'll see sense sooner this time and have a scheme in place when we come to set the budget in February."
Finance convener Douglas Lumsden said no decision had yet been made.
But he added: "The Scottish Government have to do more, we await their response to the Barclay Review to see what adjustments they will be making to the current regime that is hammering businesses in Aberdeen."