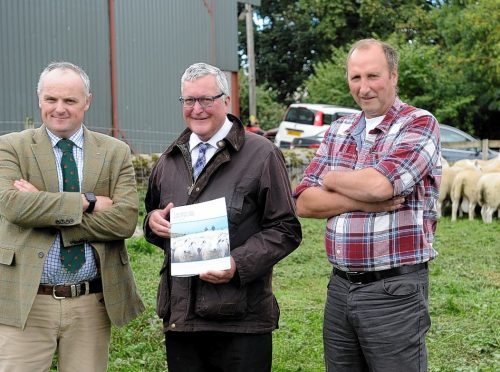 A 24-point-action plan to boost Scotland's sheep farming sector was unveiled on a farm in Grantown-on-Spey yesterday.
The report – A pathway to a profitable future: a vision for the future of the Scottish sheep industry – was devised by an industry group led by award-winning Highland sheep farmer John Scott, of Fearn Farm, Tain.
In his foreword to the report, Mr Scott urges fellow sheep producers to "become ambassadors for what we do and what we produce".
He said: "This report identifies a range of actions that I believe will enable the entire sector to thrive and prosper."
Among the list of 24 recommendations are calls for a study into the skills gap in the sector and for industry to come together to develop and deliver a sheep-farming modern apprenticeship programme.
The group also calls for all farmers and crofters to have access to broadband and mobile connectivity within the next two years, and for simple tools to be developed for industry to allow businesses to benchmark against each other.
Other recommendations include the continuation of government-funded research and the development of new disease assessment and central progeny testing tools.
The report advocates continued financial support for international marketing and promotion of Scotch Lamb both at home and abroad, and for the Scottish Association of Meat Wholesalers to commission a feasibility study into the establishment of a sheepmeat added-value facility somewhere within Scotland.
Rural Economy Secretary, Fergus Ewing, who visited Robert MacDonald's Castle Grant Home Farm for the report launch, said implementation of the recommendations had the potential to benefit Scotland's £200million sheep sector by more than £26million a year.
He said implementation of the report's recommendations would require buy-in and active participation from government and everyone in the supply chain.
"I am therefore asking John to continue what he has started and lead a small team of key players in the supply chain to drive forward the implementation of these recommendations," added Mr Ewing.
National Sheep Association development officer for Scotland, George Milne, said: "Farmers have the opportunity to investigate recommendations that may suit or bring the best possible results for their own particular farming business.
"Other recommendations require an approach at a national level which should help the whole industry to become more profitable."
Quality Meat Scotland's Stuart Ashworth, who penned the report, said all the recommendations were achievable however some would require financial backing from both industry and government.
NFU Scotland vice president, Andrew McCornick, said: "I hope those who have the best interests of the Scottish sheep sector at heart take time to read the review and help take forward its recommendations. By doing this, we will deliver a prosperous sheep industry fit for generations to come."