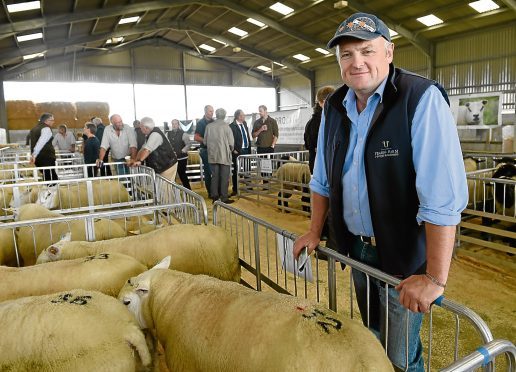 Award-winning Highland sheep farmer John Scott enjoyed a record average at his on-farm ram sale.
Mr Scott farms in partnership with his parents and his wife Fiona at Fearn Farm, near Tain.
The on-farm sale of rams, conducted by Dingwall and Highland Marts, attracted buyers from across Scotland and beyond.
Aberfield shearlings led the charge with 38 selling to an average of £860.72 and two selling for the top price of 1,300gn each.Texels were also in demand, selling to a top of 1,250gn three times and averaging £822.44 for 34 sold.
New Zealand Suffolk shearlings topped at 1,050gn, and the 24 sold averaged at £815.94.
Lastly, a small number of Beltex and Beltex cross rams sold to a top of 550gn and an average of £504 for the five sold.
Mr Scott, who authored a government report into the state of the Scottish sheep sector, said the response from buyers had been tremendous. He said it would give the team at Fearn the confidence to press ahead with their breeding strategy.
"The sale gave us further confidence that the breeding programmes we have in place in our stud flocks are working not just for us, but for other people as well," said Mr Scott.
"Breeding sheep is a long-term project which never finishes. We are always looking for ways in which to improve our flocks and will continue to do so."