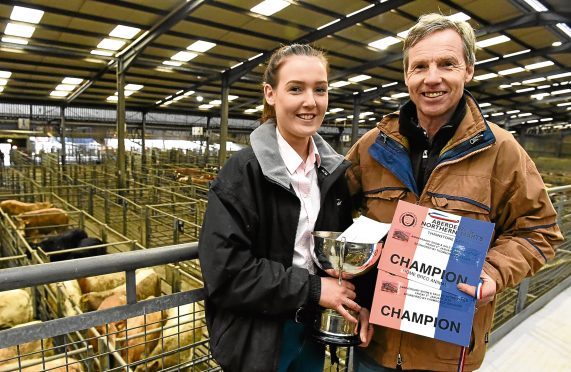 A father and daughter duo from Forfar were crowned cream of the crop at the 28th anniversary show and sale of store cattle at Thainstone yesterday.
The fixture, sponsored by Thomsons of Sauchen, was judged by Graham Brown of Reidhll Farms, Edzell.
He awarded the overall and home-bred champion rosettes to a 16-month-old Limousin cross bullock from David and Charlotte Cooper, of Govals Farm, Kincaldrum, near Forfar.
Their champion scaled 578kg and sold for £1,400 to Backmuir Livestock, Keith.
Standing reserve overall champion was a 17-month-old Limousin cross heifer from Sheep Park Farms, Bridge of Marnoch. She weighed 514kg and sold for £1,310 to Backmuir Livestock.
Meanwhile, the champion pair title was awarded to a pen of 580kg Charolais steers from C. Smith, Bogentassie, Lumphanan. They sold for £1,390 each to A.J. Ingram, East Comalegy, Drumblade.
In all, 890 bullocks sold to average 228.4p a kilo – up 2.9p on last year. A top of 290.8p a kilo was paid for a pen of three 380kg Simmentals from Auchorachan, Glenlivet, and a top price of £1,490 was achieved for a pen of four 700 Aberdeen-Angus from Clunycrichton, Banchory.
Heifers averaged 219.9p a kilo for 536 sold, which is up 0.2p a kilo on last year. A top price of 270.9p a kilo was paid for a pen of five 358kg Charolais from Lagavaich, Glenlivet, and a top price of £1,550 was paid for an 850kg Charolais from Tillenturk, Torphins.
ANM said: "An excellent show of well-bred cattle met a fast selling trade, with forward conditioned cattle numbers short of buyers' requirements."