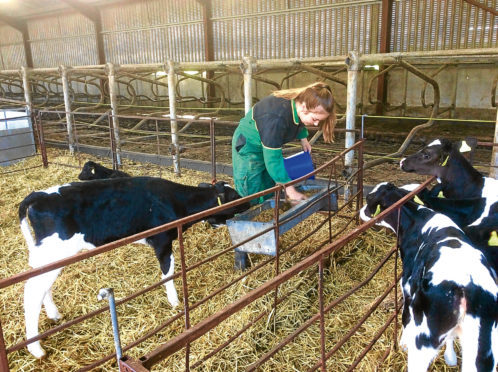 Scotland's first ever agricultural shared apprenticeship scheme was launched to coincide with Scottish Apprenticeship Week.
The new scheme is the result of a collaboration between machinery ring Ringlink (Scotland) and Scotland's Rural College, SRUC.
Ringlink has long run an intern programme whereby students are given training for a three-week period before spending six months working on a farm with a mentor.
The ring, together with SRUC, has since secured accreditation and funding to develop the scheme into an official programme.
Thanks to additional funding from private economic development agency Opportunity North East (ONE), more than 30 students will get the chance to gain hands-on experience with at least two different employers over a year.
From its Aberdeen campus, SRUC will deliver and assess the apprentices through its Modern Apprenticeship (MA) Level 2 Agriculture programme, and Ringlink will employ the youngsters and place them with hosts.
The training programme will offer practical instruction on a range of general agricultural skills, including handling and care of livestock, operation and maintenance of machinery, estate maintenance, and health and safety.
"This new shared apprenticeship scheme offers a more flexible option for both apprentices and employers," said SRUC assistant principal of education Kyrsten Black.
"Whatever way their time is allotted, the modern apprentices will gain a qualification, learn on the job and gain invaluable skills and experience to help create a flexible, skilled agricultural workforce."
Ringlink managing director Graham Bruce said: "Many of our members today don't require a full-time resource for 12 months of the year, nor are they able to offer an insight into all sectors of the industry. For this reason, the Shared Apprenticeship is a great opportunity that mutually benefits all parties and, by working together, we can develop a skilled workforce for the future."
ONE food, drink and agriculture sector board chairman Pat Machray said: "This innovative shared apprenticeship scheme will benefit students and employers with its flexibility and enabling the development of practical skills across a range of workplaces."
The project also received funding from the Mains of Loirston Charitable Trust.