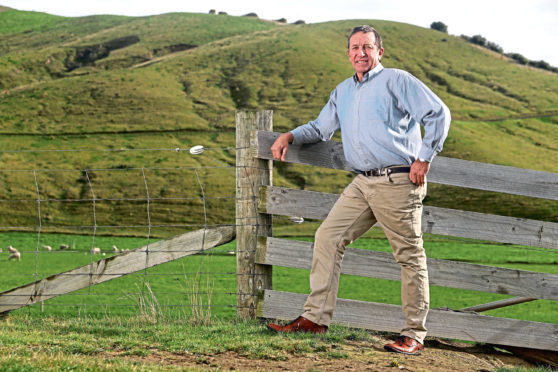 A New Zealand farmer is coming to Scotland later this month for a series of motivational talks on resilience in farming.
Doug Avery, who is the author of award-winning book "The Resilient Farmer", will give a series of talks across Scotland throughout September and October.
The South Island farmer, who has been awarded the New Zealand Order of Merit for his services to agriculture and mental health, has overcome severe drought and earthquakes which debilitated his business and triggered mental health challenges.
Together with his wife, Wendy, Mr Avery took advantage of dry conditoins and started growing lucerne for grazing livestock on his 5,900-acre farming enterprise in South Marlborough.
The farm's income has increased tenfold in the past 10 years and it is now one of the top performing beef and sheep enterprises in New Zealand.
Mr Avery's speaking tour – Drought, Adversity and Breaking New Ground – has been organised by the Royal Highland and Agricultural Society of Scotland (RHASS) and farming charity RSABI with support from John Scott, of Fearn Farm, near Tain.
It kick-starts with a talk prior to the Kelso Ram Sales on the evening of Thursday September 13, and other venues include Thainstone Mart, Dingwall Mart, Orkney Mart and venues in the Cairngorms, Oban and the Isle of Mull.Mr Avery will also visit the Scottish Parliament and attend the Helping It Happen awards, organised by Scottish Land and Estates in Edinburgh.
RHASS chief executive Alan Laidlaw said: "In a time of unprecedented change and challenge, this is a great opportunity to hear from someone who has made changes and come through the other side, and for us all to think differently about our own businesses and our sector.
"We are delighted to secure such a comprehensive tour from a great speaker."
RSABI chief executive Nina Clancy said: "Doug has been through it all and shown how a change of approach and mindset can turn a negative into an extraordinary positive, showing there is always a way forward.
"As we face the uncertainty of what comes post-Brexit and the challenges of poor weather, the timing of Doug's visit couldn't be better.
"His insights will give inspiration to anyone looking or needing to change their approach to business and/or life. His story is inspiring, and he is an entertaining speaker, combining humour with deeper messages – well worth a listen."
More information about the tour is available online at www.dougaveryscotland.co.uk
All talks are free to attend but most are ticketed due to venue restrictions, so must be pre-booked. This can be done online.