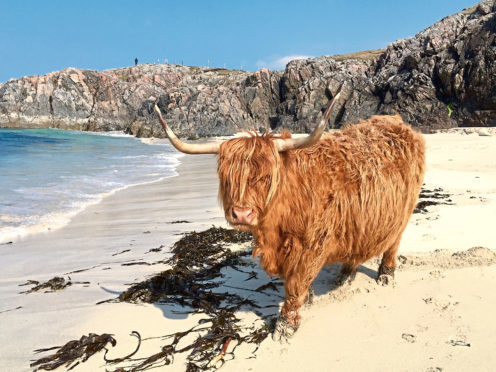 Scotland's beef and dairy farmers could soon be feeding their cattle seaweed as part of efforts by scientists to develop more environmentally-sustainable livestock diets.
Researchers at Queens University in Belfast and Aberystwyth University have discovered that brown seaweed contains special compounds which can reduce methane production in ruminants.
What's more, its adequate levels of protein mean the plants – found growing around the UK's shores – could provide a locally-grown alternative feed for cattle, improving livestock sustainability for the long-term.
Speaking at the European Federation of Animal Science conference in Dubrovnik, Croatia, Michael Campbell of Queens' Institute for Global Food Security said previous research had identified natural compounds in seaweed called phlorotannins which can abate methane production in the rumen.
In their latest study, he and his team wanted to find out the nutritional value of two varieties of seaweed, both locally available in the UK, as well as their effect on methane production in ruminants.
Looking at two species – Fucus vesiculosus (FVS) and Saccharine latissimi (SAC) – the researchers measured the amount of gas they produced at varying intervals across five days.
A control sample of Lucerne – which doesn't contain phlorotannins – was also tested.
The team discovered that FVS and SAC both had crude protein levels of 8.1% and 11% dry matter respectively, which was lower than the levels found in conventional feeds.
However gas production was significantly lower.
FVS was found to produce 95% less methane than Lucerne, and the trials showed SAC producing 60% less.
"Although the brown seaweeds are lower in crude protein than conventional feeds – soybean, for example has 40-50% crude protein – the environmental benefits cannot be ignored," said Dr Campbell.
"While we need to do more work to establish optimum inclusion rates in cow diets, with a crude protein content of 11% SAC is a species with a high potential as a sustainable feed in ruminant nutrition.
"As an alternative, locally-available feedstock, we think seaweeds are currently underexploited in the UK."