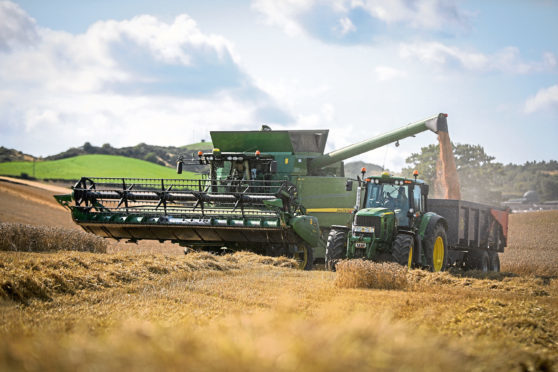 Harvest 2018 has been better than expected, according to the National Farmers Union Scotland (NFUS).
The union said farmers' fears of an awful harvest – brought about by a long, cold, wet winter followed by the joint hottest summer on record for the UK – did not come to fruition for all.
It said many growers were reporting better than expected yields. However, across the board many have reported poorer average yields from winter and spring barley, as well as for straw.
Wheat fortunes have been mixed with some growers reporting good quality, and others saying it got hit hard at the start of the summer and never fully recovered.
"Farmers had an uphill battle early in the year to get everything ready and planted for autumn harvest," said NFUS combinable crops chairman and Perthshire farmer Ian Sands.
"Following up this wet winter and spring with such an unseasonably hot and dry summer could have been disastrous for cereal farmers who require a healthy balance of warm and damp weather to produce the crops that we are renowned for."
He said an upside of the hot weather was that most grain was at an acceptable level and less drying has been required.
"Winter crops are getting sown into good quality seed beds and are well ahead of last year, when we struggled to clear fields of some crops and did not have the conditions to start sowing when we needed to," added Mr Sands.
In the north-east, the area's farmers have reported mixed yields, with winter and spring barley back on last year and straw yields back around three bales per acre.
Elsewhere, farmers in Orkney have reported a reasonable yield for spring barley, but lower straw yields, while farmers in Argyll and the islands are reported to be taking solace in the fact that everything harvested has been of a high level, despite yields being back.
NFUS has issued a call to all growers to complete its online annual harvest survey here by Monday.