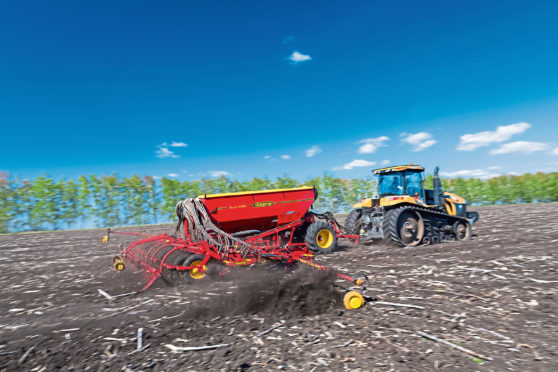 Farmers using Väderstad Rapid trailed drills who want to apply seed and fertiliser at variable rates within fields can now do so without needing ISOBUS electronics thanks to new controller software.
The Universal Control programme pre-loaded on Väderstad's iPad-based E-Control in-cab unit provides greater scope for using variable rate prescription maps from third-party providers.
A wifi connection to the data gateway enables routine drill control instructions to be transmitted, as well as application rate data from variable seed and/or fertiliser prescription maps through the new Universal Control software.
The iSoyl field-mapping service is the first third-party system to take advantage of it.
Universal Control is available for the 4m, 6m and 8m seed-only Rapid A drills with 2,900-litre (4m) and 3,100-litre hoppers; the seed-only 6m and 8m Rapid J versions with 6,000-litre capacity; and the 6,000-litre Combi models in 6m and 8m.
A long-established traditional coulter design is a new option on Kuhn Venta 3.0m, 3.5m and 4.0m drills for power harrows.
The drills are already available with double-disc coulters on trailing arms, while the Seedflex option provides the added sowing-depth precision of parallel linkage coulter arms and extra spacing between the two rows of double-disc openers.
Kuhn has now added a Suffolk coulter option, comprising three rows of trailing arms with 33cm spacing from one to the other and with up to 35kg of pressure available to maintain consistent sowing depth in heavier soils.
The Venta 1010 series drills are available with 1500- and 1800-litre hoppers supplying electric motor driven fluted metering rollers.