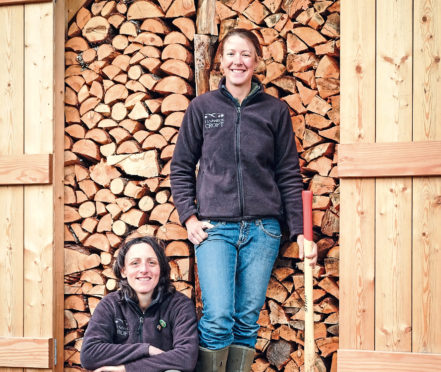 A Highland crofting enterprise has been crowned New Entrant Farm Business of the Year.
The 150-acre Lynbreck Croft, located in the Cairngorms National Park and run by Lynn Cassells and Sandra Baer, is the UK winner of the Europe-wide Newbie award for innovative new entrants.
Ms Cassells and Ms Baer will receive their award at the Royal Highland Show in June.
Their prize comprises 500 euros (£433) towards the cost of training or an international visit, an award plaque, farm video, and the chance to attend a European new entrants conference with other award winners.
"We are really delighted to have been given the Newbie award," said Ms Cassells.
"We have worked so hard over the last few years to build the foundations of our new croft business, which we see as being rooted in nature and rooted in our community."
Newbie award co-ordinator Dr Adam Calo, of the James Hutton Institute, said "Having spoken to many new entrants across the UK, I see Lynbreck as an example of how to leverage the existing and potential biodiversity, not just for the long-term benefits, but as legitimate income generation during the initial phases of their agricultural business."
The shortlisted applicants were judged by farming union leaders from across the UK, including NFU Scotland president Andrew McCornick.
He said: "It was a pleasure to be on the panel judging this award.
"To me, the winners had not a 'thinking outside the box' approach but instead a 'there is no box there' vision, which showed an unconstrained desire to squeeze every ounce out of their business."
Two other UK businesses were commended in the awards and recognised as "exemplary innovative new entrants".
These included the Banffshire-based Scottish Goat Meat Company, which provides high-quality, locally reared goat meat direct to customers' doors.
Meanwhile, the next round of applications for the award is to open in autumn.