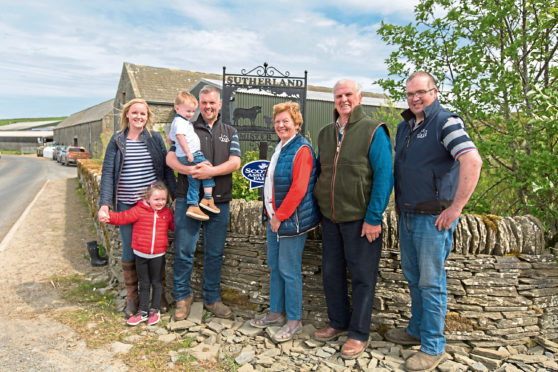 All roads will lead to Caithness next month when the Sutherland family of Stainland and Sibmister Farms, near Thurso, will host NSA Scotland's biennial Highland Sheep event.
Kenneth and Elspeth Sutherland, together with eldest son, Stephen, and his fiancée, Alix Brown, younger son, Kenneth, and his wife, Fiona, and two children, Amy and Jack, run one of the best-known beef and sheep enterprises in the north, and regularly produce prize-winning commercial lambs at local and national shows.
The family farm across 1,700 acres of owned land between the host farm, Sibmister and its neighbouring unit Stainland, while additional seasonal grazing is taken on each year to accommodate stock throughout the summer.
While many beef producers downsized their suckler herds some years ago and continue to do so, the Sutherlands more than doubled their spring calving herd to 400 head 15 years ago.
In the last four years, they have increased sheep numbers from about 1,000 to 1,600 breeding ewes and rely upon all home-bred replacements and use mainly home-bred tups.
Lambing kicks off at the end of February with the two pure flocks of 60 Suffolks and 50 Texels, followed by the crossbreds from the second week of March.
Cheviots follow at the end of March and hoggs and Jacob cross ewes from the second week in April.
The large-scale sheep flock includes 300 Cheviot ewes which were reintroduced to the farm two years ago to breed replacement females when bred pure or crossed to the Bluefaced Leicester to produce Cheviot Mules.
They are then crossed to the Texel, with the result then tupped again to the Texel or Suffolk.
Around 200 Suffolk crosses are tupped to the Texel, as are the 200 Jacob cross ewes which saw some go to a Beltex cross Charollais tup for the first time this year. The Jacob has proved to be a real success for the family since being introduced four years ago and is now the sole terminal sire for the 300 crossbred ewe hoggs which are tupped annually.
Hoggs run with the tup for 17 days and usually 60 to 70% of them hold.
Stephen, who works alongside his father and brother, as well as two full-time staff, Angus Mowat and Alistair McCarthy, said: "We have tried a number of breeds for tupping to the ewe hoggs, but have found the Jacob is best suited due to its ease of lambing.
"The lambs have turned out better than expected and still make us a pound, and some of the ewe lambs retained are proving highly prolific."
All ewes and hoggs are lambed inside with up to 2,000 head going through the sheds over the winter.
A modern set-up and three recently erected slatted sheds allow 900 ewes to be housed immediately after scanning which has improved management and reduced feed costs over the winter.
Harbro Premium Ewe nuts and Harbro Feet and Fertility pre-tupping buckets are given to the flock, with twin-bearing ewes fed 0.75kg six weeks before lambing, while those carrying triplets receive 1kg from scanning onwards.
"Ewes are moved into straw-bedded courts one week before lambing and then turned out a couple of days after lambing depending on the weather," said Stephen, adding that two additional staff are brought in during the lambing period.
"The overall scanning percentage is usually 180-190%, with a weaning percentage of 160%. We enjoyed one of our best lambing seasons this year and the lambs are doing really well."
All lambs are sold direct to Woodhead Bros in Turriff, with the aim to finish as many lambs as possible off grass from mid-May onwards at 20kg deadweight.
Two-thirds are finished off their mothers and 70% of lambs grade E and U, with only four O grades last year.
Harbro Kelso Tup and Lamb is fed to shearling tups sold at Quoybrae and Dingwall, which ensures tups are fit but not fat.
About 50 shearlings are sold each year, with a top price of £1,200 achieved for a Texel.
Various breeds have been experimented with over the years in the 400-cow spring herd, but it's the Charolais that has remained the number one terminal sire for producing progeny which is sold store through Aberdeen and Northern Marts' Caithness Livestock Centre at 10 to 11 months of age.
Over the past eight years, the Sutherlands have introduced the Longhorn and are now relying upon a crisscross breeding programme of the Longhorn and Simmental to produce home-bred replacement heifers which are calved at three years.
"The Longhorn is easy calving, easy fleshing and has a good temperament with plenty of milk," said Stephen.
"We've also purchased a red Aberdeen-Angus bull from the Taits at Inkstack, which will be bulled to Longhorn cross heifers.
"Our Longhorn cross steers are selling just as well as Simmental and Charolais crosses at the store sales at Quoybrae and to many regular buyers."
The two units are able to house all cows on slats from the end of October through to May, and Kenneth Snr pointed out that this year has been the first in a while that cattle have been put outside as early as the end of April.
In the meantime, with lambing having drawn to a close and just 30 cows left to calve, it's all hands on deck for NSA Scotland's big event at Sibmister on Wednesday June 12.