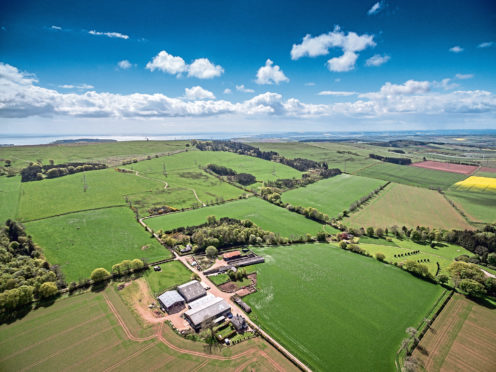 A 540-acre mixed farm on the outskirts of Laurencekirk has been launched to the market with a price tag of offers over £2.595 million.
Johnston Mains Farm is described by selling agents Bell Ingram as an "exceptional" mixed farm with high-grade arable land, well-established grass and panoramic views over the Howe of the Mearns.
The farm, which is available to buy as a whole or in two lots, has been farmed by brothers Jim and Ronald Cooper and their respective wives Ruth and Lorraine.
"We have decided to take early retirement while we are still reasonably fit and healthy," said Jim.
"Although we both have families none of the younger generation is interested in going into the farm."
The first lot, which carries a price tag of offers over £2m, comprises the four-bedroom farmhouse, a range of agricultural buildings and 230.66 acres of prime arable land ranging from Grade 2 to 3(1).
The buildings include a cattle court, grain store with kerosene batch floor dryer, silage pit and cattle-handling system.
The second lot, available for offers over £595,000, comprises 309.17 acres of predominantly Grade 3(2) livestock grazing land with areas of woodland and forestry.
Bell Ingram's head of farm sales, Stewart Hamilton, said a huge investment had been made in the farm with a number of new fences and the majority of the hill land surrounded by electric fencing.
He said the fields were well drained and large enough to run high numbers of livestock comfortably on a rotational basis.
Mr Hamilton added: "This is an exceptional farm in an excellent location likely to appeal to both buyers looking for a whole farm and farmers wanting additional land to extend their existing business.
"Land and farms rarely come up for sale in this area of Kincardineshire so we expect a great deal of interest."