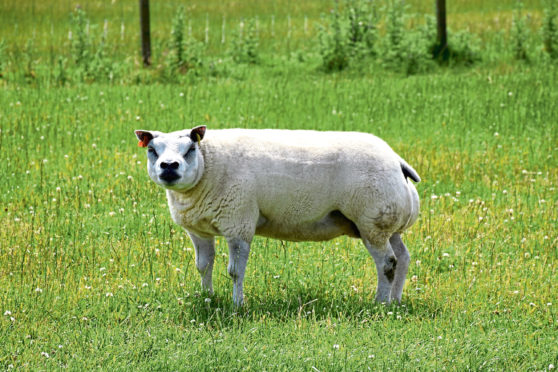 A family renowned for producing quality stock in the north-east of Scotland has backed the Beltex breed for many years, reaping the rewards at shows and sales to put the breed on the map.
Known for breeding pedigree Texels and Suffolks in previous years, the Mairs – headed up by Bruce and son, Colin – now focus on the double-muscled Belgian breed at their Everton of Auchry Farm near Cuminestown, Turriff, where, together with the neighbouring farm, land totals around 700 acres.
"We started the flock around 15 years ago – dad seemed to have an addiction to buying sheep," said Colin.
"They were the up and coming breed at the time and he admired the carcase and shape of them.
"Dad went to Belgium and bought some females to start the flock and he must of liked them as he didn't even have a passport before he went."
As well as some Belgian bloodlines, the Mairs invested in females from the Southolm and Dunure flocks which proved their worth and went on to produce successful breeders, Aviemore Pepsi and Aviemore Present, respectively, which can be held accountable for 60% of the current flock.
Other influential females include Aviemore Red Patch, a now eight-year-old Ballydown Magnus daughter, as well as Aviemore Wonder Goddess, a daughter of the 7,000gn Artnagullion Top Dog bred from the aforementioned Present.
Nowadays the Aviemore flock numbers 100 breeding females, some featuring five generations of home-bred genetics, alongside a team of stud rams, many of which are shared with fellow breeders as the Mairs believe they can invest in better rams if the cost is shared.
This tup team includes the: 4,600gn Airyolland Avicii; 13,000gn Langlands Bruiser; 5,000gn Bailey Brook CR7; 4,200gn Kingledores Destroyer; and 3,800gn Heatheryhall Campbell.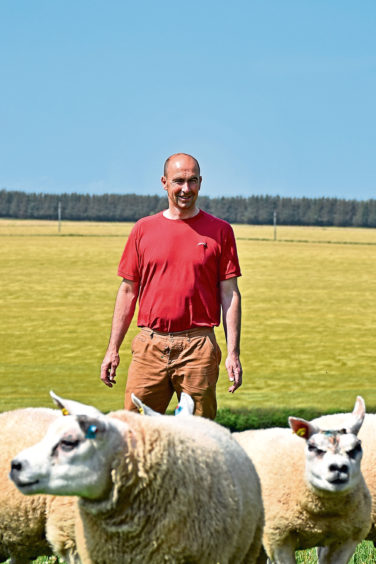 These, say Bruce, are all syndicated with north-east and Orcadian flocks and have produced many show champions at both local and national levels.
One of the most influential sires, however, was the 6,500gn Corstane Whistler whose female offspring have all bred well and continue to feature in the flock today.
Nowadays, the top eight or so ewes are flushed each year and Bruce is pleased to report they yield well with a consistent 70% success rate.
While top prices in the sales ring may not have reached the heights of some other breeders, the Mairs have been delighted with their good and solid trade received in years gone by.
Last year, for example, their entry of 10 shearling rams cashed in to average just shy of £2,040 having reached a top of 4,500gn for Aviemore Cicero ET – an Avicii son bred from one of the flock's best females, Aviemore Wonder Goddess.
Their gimmers and ram lambs sold well too as the flock sat in the top 15 averages for both sections.
This year the Mairs have around 40 gimmers to sell between Carlisle, Kelso, Thainstone, Lanark and privately, as well as 40 shearling tups and 12 ram lambs.
Heading to the breed's Premier Sale at Harrison and Hetherington's Borderway Carlisle centre on August 14-16 will be 10 shearling rams, six ram lambs and eight gimmers, all featuring Langlands Bruiser, Airyolland Avicii, Airyolland Wee Jimmy, Bailey Brook CR 7 and Kingledores Destroyer in their pedigrees.
The Mairs have also celebrated success in the show ring over the years, winning the championship at their local Turriff Show on several occasions.
Admittedly, the breed has changed in the UK in the 30 years since the first imports came in to the country back in 1989, but the Mairs believe these changes are for the better.
"When we starting breeding Beltex they were very much a carcase breed, being small and not always the most mobile," said Colin.
"Now, they still have the strong carcase traits but are more correct on their legs and the mobility has improved a lot.
"We also like to breed some with a bit more scale in them to sell commercially up here in Aberdeenshire, but in the last 15 years we've noticed that everyone's sheep have gotten bigger as breeders realised they needed to upscale in order to tup commercial ewes."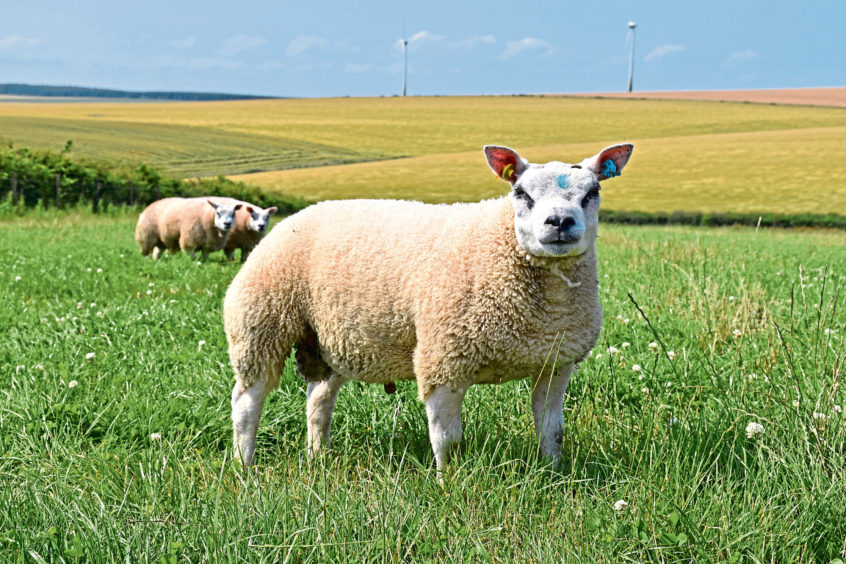 The Mairs are also adamant that you can buy a better Beltex ram for less money than some of the other breeds thanks to not as many breeders making their money outwith farming.
They're also keen to point out that, contrary to many non-Beltex breeders' belief, the breed produces a lamb crop.
Bruce said: "Something a lot of people don't realise is that the Beltex ease of lambing is far greater than that of a Suffolk or a Texel and we've had far fewer caesareans with our Beltex than we did when we bred Suffolks or Texels.
"The rams are also becoming very popular for using on ewe hoggs – a neighbour of ours recently had a very successful crop of lambs out of his Texel hoggs and is very nearly a convert."
With the Mairs believing the Beltex breed is numerically at saturation point, the bottom end of the Aviemore ewes are covered by a Perdi-bred Bleu du Maine to produce the now renowned Millennium Bleu.
Both Millennium Bleu males and females are then offered for sale with some of these females used as recipients in the flushing programme.
Proving the popularity of this hybrid breed, the National Bleu du Maine Show held recently at Turriff included a Millennium Bleu section and it was a mature ram from the Mairs that claimed the championship.
So whether for pedigree breeding, crossing to produce hybrid stock or using on ewe hoggs, the Mairs believe there's a Beltex out there for everyone.
•The Carlisle Show and Sale (August 14-16) has almost 1,700 catalogued entries including 14 aged rams, 918 shearling rams, 331 ram lambs, and 420 shearling gimmers.