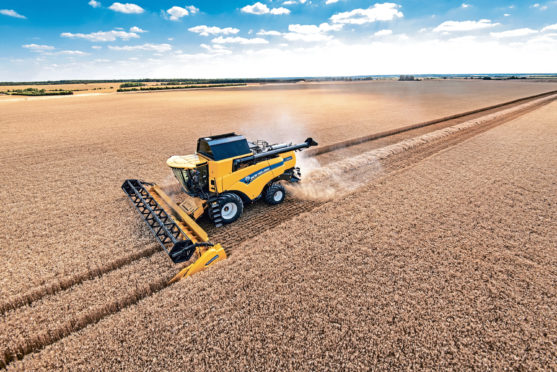 A novel redesign of the familiar threshing drum is at the heart of a productivity push engineered for New Holland mid-range straw walker combines.
The optional unit has short rasp bars arranged in a staggered formation instead of several full-width bars, which results in a more progressive treatment of incoming crop.
Apart from being quieter (New Holland engineers say the thrum of the threshing system is all but eliminated) the new design consumes less power.
Fuel use comes down as a result of the 16% reduction in threshing power consumption, they add, yet the combine's capacity can be as much as 10% greater.
That's a significant amount, especially in a season with catchy weather when there are crops to get safely under cover.
The 750mm diameter drum is the principal element of the threshing system in the CX7 and CX8 five- and six-walker combines.
They also have a 610mm beater aft of the drum to help extract grain and keep the crop moving into the 750mm peg drum that also gets grain out of the straw ahead of the walkers.
The staggered rasp bar drum design is suitable for all small grains and being heavier can use inertia to good effect, reducing load peaks on the engine and drive system. All the same, the CX8.80 gets a 14hp hike for next harvest, up 3.5%, thanks to a new-spec engine that meets the Euro Stage V emissions rules.
The range-topping CR twin rotor threshing and separation combines also get more power to help maintain their competitiveness with other large combines from AGCO (Fendt/Massey Ferguson) and Claas of late.
The CR8.90 Revelation gains 27hp (up 5%) to peak at 544hp, while the CR9.80 and CR9.90 are up 29hp for a similar gain. New Holland's flagship CR10.90 continues unchanged for now, with 700hp at its disposal, and engineers working on the big machines point out that changes made over the past five years have delivered up to 25% more productivity from the machines.
This time around, all CR models benefit from an increase in beater speed.
This is the drum that helps feed and divide the incoming crop into the two rotor housings – with a resulting increase in throughput potential, while the CR7.80, CR7.90 and CR8.80 now have an adjustable grate beneath the beater to provide an additional 0.26sq m of additional separation area.
In order to keep the entire system matched to performance potential, the grain elevator on the CR9.90 and CR10.90 can shift 10% more grain into the 14,500-litre grain tank, allowing faster working speeds in heavy yielding crops.