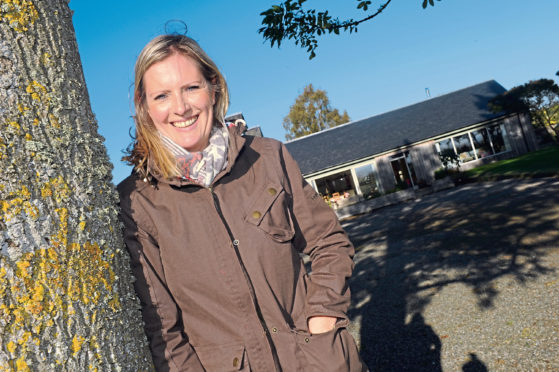 Some readers may recall from previous columns that Halloween is a pretty big deal in our household. And this year, we have embraced All Hallows' Eve even more so by making October a month-long celebration of the spooky festival.
My already fairly robust box of Halloween decorations was bolstered last year on account of a Worst Witch-themed birthday party, so one soggy day after school at the beginning of the month, the girls and I festooned the porch, kitchen and living room with an atmospheric array of ghoulish adornments.
Trick or treating has always been a huge American holiday, but it seems to be getting bigger here year-on-year too.
Most visible is the astonishing range of decorations, confectionery, dress-up costumes and special-effect make-up in superstores and online. However, the fearsome festival has also inspired a host of seasonal activities across a range of sectors from Halloween crafting in botanic gardens, galleries and museums to community pumpkin parades and harvesting events on farms.
There are now several farms across Scotland offering pick your own (PYO) pumpkins.
Joining pumpkin patch veterans Cairnie Fruit Farm in Fife are newcomers Kilduff Farm in East Lothian, Perthshire's South Ardbennie Farm, and Narrowboat Farm, Linlithgow.
Arnprior Farm in Kippen, Stirling, however, seems to have started the pumpkin picking trend.
Arnprior is an 800-acre property which has diversified into family-friendly farm tourism including eco-glamping and seasonal events alongside its traditional mixed farming.
Run by the enterprising McEwen family, Arnprior planted a six-acre pumpkin patch in 2015 and have been hosting PYO events every October since, selling tickets for either a morning, lunchtime or afternoon session where folk can pick from 7,000 pumpkins.
With on-farm entertainment and refreshments for all the family, it's no wonder families make an annual pilgrimage to Arnprior and slots sell out. They also offer pumpkin picking for children with additional support needs and 'date night' pumpkin picking.
As you can imagine, the various pumpkin enterprises have piqued my interest; the uncertainty of Brexit and its implications for farming mean that innovation and diversification are increasingly pertinent.
A pumpkin patch and harvesting event at Rootfield would combine my love of Halloween with Nick's love of farming; it would also help occupy a quiet month on both the farm and in the ice cream parlour. Win-win, no?
"At least it's more realistic than lavender," comes my husband's response, reminding me of the time we visited Longbarn Farm in Winchester and I returned wanting to grow and distil the fragrant plant.
In fact, it seems apt being farmers hailing from the Highlands that one school of thought says Halloween traditions are rooted in olden Celtic harvest festivals, the Gaelic festival of Samhain in particular, which marks the end of the harvest season and the beginning of the 'darker' winter.
For the time being, at least, Rootfield's harvest is somewhat more mainstream.
Nick was relieved to get his spring barley cut and baled at the end of September before the heavy October showers. And at time of writing, the dry cows are outside grazing and will remain there for as long as it stays mild and the grass plentiful.
On the processing side, usually we'd be introducing autumn flavours this month. In the past and on my insistence, Rosie and the team have produced a beautiful spiced pumpkin ice cream, but even I can see from the sales it's not a popular flavour.
That said, the few customers who have bought it really love it. We've also found, disappointingly, that apple flavours don't seem to work that well as an ice cream or sorbet.
Instead, we are starting to look ahead to our special limited edition festive flavours – Prosecco and mulled wine sorbets are always popular, and on the ice cream front, rocky road, stollen and sticky toffee pudding – as well as opening up the dairy for Christmas ice cream cake orders.
We are also thinking about the feasibility of offering dairy hampers as a foodie Christmas gift this year. But there's plenty of time to talk tinsel. Happy Halloween!
Next month: Time to coorie in
Rootfield Farm is on the Black Isle, 10 miles north of Inverness, where Jo lives with husband Nick, a dairy farmer, their daughters Daisy and Mollie, and 170 cows