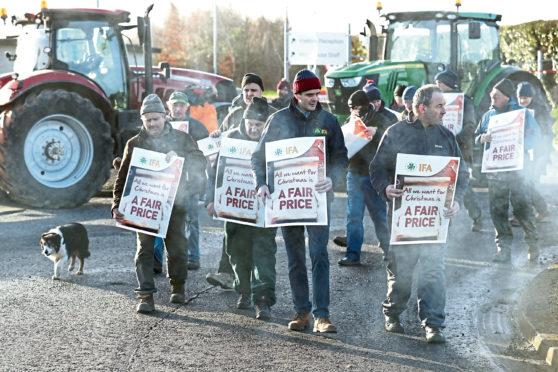 Hundreds of Irish farmers blockaded a Tesco distribution centre as part of an ongoing campaign for higher beef prices.
The demonstration, which took place at the retailer's Donabate site near Dublin, was organised by the Irish Farmers' Association (IFA).
It follows similar action by the farmers' union at Aldi and Lidl distribution centres last week.
IFA president Joe Healy accused meat processors of lacking price transparency, and said recent price rises had not gone far enough.
"IFA will continue with our action until we have a substantial price increase," said Mr Healy.
"From talking to farmers, it would seem that generally the price rises appear to be 5c/kg (4.2p/kg) for heifers and 10c/kg (8.4p/kg) for steers."
He said the Irish price was not rising in line with UK price.
"Farmers are also appalled to see Tesco advertising 'half price' beef," added Mr Healy, describing the promotion as an "insult to farmers".