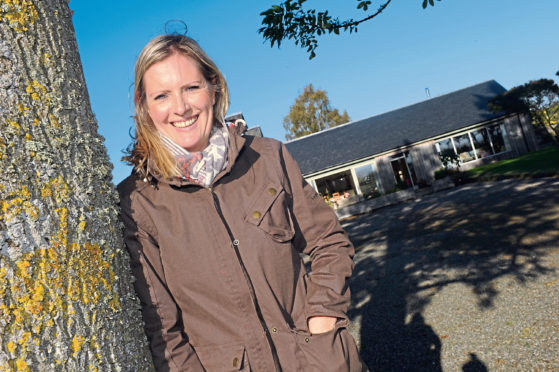 It's a time of year I usually struggle with, which I willingly share in these pages because I'm keenly aware it is a feeling experienced by many, particularly in the farming community.
The joyful excitement of Christmas with its almost overwhelming amount of socialising and spending contrasts sharply with the bleak, dark days of dreich January.
The girls and I have been slow to adjust to the school routine again, and Nick has been delayed in returning to normality on the farm due to a combination of staff illness and soggy fields after days of rain and sleet.
There have also been some equipment breakdowns in the ice cream parlour as well as a road closure just outside the farm, both generating unexpected expense and loss of trade at an already quiet time.
However, I have taken heart in reading that it is perfectly normal to feel low at this time of year, which would explain why it is the most popular time for folk to book their summer holidays (our Easter and summer breaks are already booked) and tuck into comforting carbohydrates.
I have also been inspired and encouraged by a few close friends to beat the January blues by changing my perspective on the month as well as making small changes to my daily routine.
While I feel blessed to work from home around the girls' nursery and school hours, it is often tricky to get motivated with so many domestic chores (and leftover Christmas chocolate) to distract me.
But, as a wise pal pointed out, new year is the perfect time for forging ahead with new ideas and essentially making a fresh start.
I'm not a great believer in resolutions, but this sentiment has armed me with the resolve to set in motion at least some of the plans I've talked about (in this column!) over the past year. After all, they're not going to realise themselves.
Another helpful, if perhaps old-fashioned, tool I've been using to inspire me this month is a favourite Christmas present, The Almanac: A Seasonal Guide To 2020 by Lia Leendertz.
This month-by-month guide to the seasons, with everything from sunrises and meteor showers to what's growing on hedgerows and seasonal traditions and recipes, is a grounding and beautiful book. It is helping reconnect me with nature and real-time experiences, as opposed to the virtual world, social media and mindless screen time.
On January 10, for instance, I had read about the "wolf moon" (a penumbral eclipse and the first full moon of the year) so set a reminder alarm for 7.20pm and looked at it with the friends, and all the children, we were spending the evening with.
It was a magical bright yellow moon encircled by shadowy rings. Some believe this moon heralds the best time to "release your inner power".
My other half may be less fascinated by the moon and stars than me but is already intrinsically connected to the land and the seasons, as all farmers are.
That said, Nick is frustrated not to be able to get on with essential groundworks in some of the wetter fields. Among several jobs across the farm, he has earmarked a portion near the bottom shed for drainage with the future hope of relocating the honesty shed.
Such has been the success of the milk vending and overall sales of our ice cream and yoghurt as well as the local eggs, cheeses and pork we stock, Nick and I both feel direct farm-gate sales is an area of the business worth investing time and money in.
Every Christmas, there tends to be friendly banter from family members about why our ice cream isn't stocked in certain venues, but we respectfully refuse to bow to any pressure.
Since diversifying in 2013 we have consciously grown slowly and organically, partly because we were learning as we went, partly because it was a high-value artisan product, and mainly because it had to fit in around the farm and our family life.
Seven years on and we continue to be happy with a small number of independent, like-minded stockists within a restricted radius of the farm who we can supply consistently and rely on to represent the same artisan principles the brand was founded upon.
We feel that focusing our efforts on growing and improving the on-farm retail offering, rather than chasing big trade contracts, will better serve our local community, nurture our dedicated team, improve our green credentials and work harmoniously alongside farm and family commitments.
Obviously, from a commercial point of view, direct sales also generate a greater margin.
An extended version of the honesty shop shed we have at the moment with more vending options is what we have in mind, but we are still considering the details of what will work best for staff and customers as well as how to finance it.
One idea we are bringing to the farm more imminently – see next month's column – is the pop-up Waffle Barn mentioned in November.
Unfortunately, delays in equipment delivery and a rise in the number of ice cream cake orders in December, along with a packed social and school calendar, meant we were just too late to confidently launch in the run-up to Christmas, as intended.
Valentine's Day followed by the half term seems an ideal time to trial our bubble waffles and hot chocolate; the first of last year's plans to come to fruition in 2020.
Happy New Year everyone!
Jo lives at Rootfield Farm on the Black Isle with husband Nick, daughters Daisy and Mollie, and 170 cows