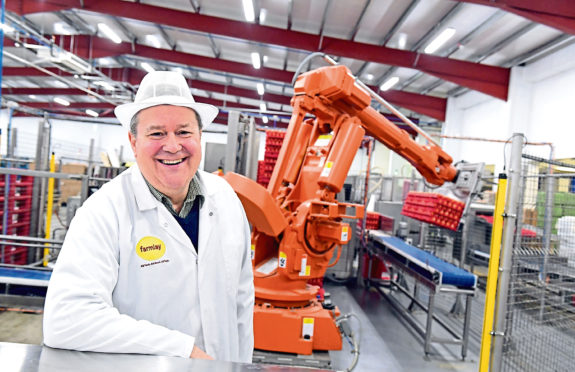 North-east egg producer Farmlay Eggs has blamed a challenging market for a 40% drop in pre-tax profits last year.
The company, based at West Cockmuir Farm near Fraserburgh, is run by Robert and Ethel Chapman and their son Iain.
It sorts and packs between four million and 4.5m eggs every week, with 40% produced in-house and the remainder sourced from 25 contract producers.
Accounts filed with Companies House show the firm, under its registered name of Aberdeen and Northern Eggs Limited, posted pre-tax profits of £1.324m for the year to May 31 2019. This is down from £2.249m the year before.
Turnover at the company, which supplies retailers including Morrisons and Aldi, was down 2% to £18.997m from £19.388m previously. In his report accompanying the accounts Robert Chapman said the directors were pleased with the results considering the uncertainty of the economic climate.
"Turnover is marginally down – this is due to a challenging egg market – although throughput volume has increased," said Mr Chapman.
"We therefore need to continue our investment programme in enhanced automation for the packing and grading operation to ensure we remain competitive in the market."
He said the firm had invested in a new egg grading machine and additional robots to increase the number of eggs it can pack in an hour.
"The retail market is still very competitive," added Mr Chapman.
"Consumption of eggs, however, continues to rise."
However, he said bird numbers were increasing faster than consumption.
"This will result in an oversupplied market and we expect profit margin to be squeezed because of this going forward," added Mr Chapman.
"The directors need to monitor the supply and demand balance at all times, while still growing the number of birds to meet customer needs."
On the current financial year, Mr Chapman said: "It's pretty tough at the moment but we are beginning to see some light at the end of the tunnel.
"From 2021 things in the industry are looking to get better."
He said the company had recently purchased Sandyknapps Farm at Longside, near Peterhead, and expansion plans included the recruitment of a new contract producer in Kinross, who is due to start production next year.
"We are going to move all the rearing birds there and we are going to convert the sheds (at West Cockmuir) into ones for laying birds," added Mr Chapman.
"By this time next year we will have an extra 100,000 laying birds."