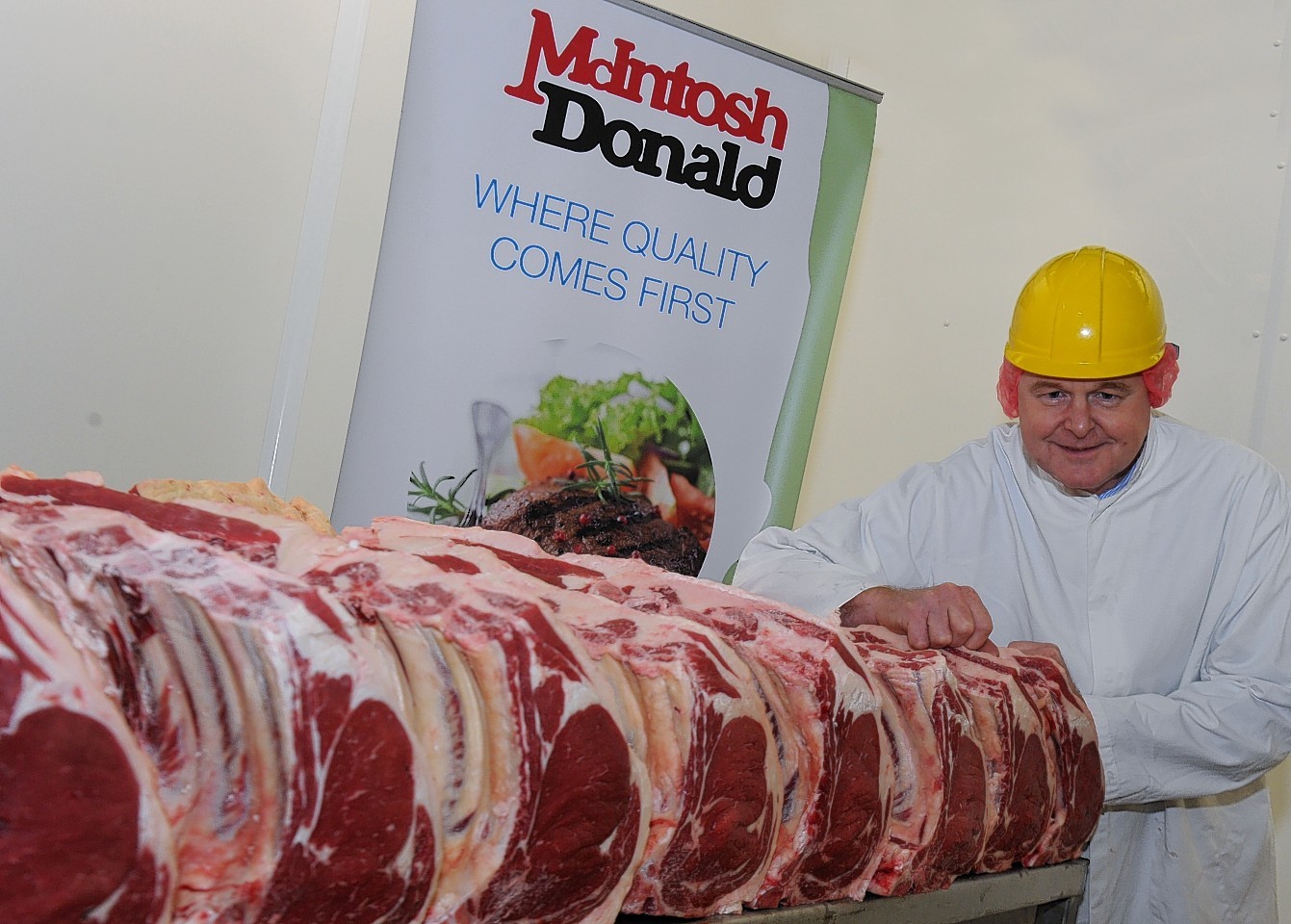 Twelve prime beef carcases – all but one from North-east beef producers – have been selected for the final of the McIntosh Donald/Tesco best Scotch steak competition at the Royal Highland Show next month.
The 12 carcases were selected on visual inspection from a total entry of 165 cattle at the preliminary judging this week at McIntosh Donald's Portlethen meat plant.
Steaks from the sirloins of the winning carcases will be grilled on the Tesco stand at the show on Friday, June 20, and judged on eating quality by an expert panel.
"We had an outstanding show of carcases in terms of quality to choose from which made judging very difficult," said McIntosh Donald site director Alan McNaughton, who led the judging panel.
"Selection was on the basis of eye muscle, grain and marbling and I'm confident that the carcases we have chosen will produce steaks of superb eating quality."
A combined total of 113 years' experience in the meat trade went into the judging. Mr McNaughton, with 33 years in the trade, was joined on the panel by sales director Frank Clark (27 years); sales manager Sandy Boyes (26 years); and factory manager Craig Anderson (27 years).
Only carcases weighing 250kg to 400kg and classifying R or better for conformation and 3 or 4L for fat cover were eligible for the competition which resulted in only 103 carcases qualifying for judging.
"Most of the carcases which failed to make the grade were rejected because of overweight," said Mr MacNaughton.
"We are still getting too many cattle which are too heavy. It's important for us as meat processors, as well as for farmers themselves, that farmers consign cattle to the abattoir which meet specification."
McIntosh Donald, in line with other processors, has recently imposed a penalty of 5p a kg for all carcases over 420kg.
The company is a major supplier to Tesco which has recently committed to selling Scotch Beef in all Scottish stores, except when selling on special promotion when sufficient supplies of Scotch are often not available.
"Tesco is the biggest customer for Scotch Beef and it's vital that we are in a position to supply product which meets their specification," said Mr MacNaughton.
"Tesco's quality assurance team regularly check the dimension of steaks, which have to fit into their pre-packs, and it they are too big, the whole consignment risks being rejected.
"Steaks must be a certain thickness to ensure good eating quality. A steak which is too big has to be cut more thinly to ensure a weight and price which the consumer is willing to pay. But a steak which is too thin will not cook well, adversely affecting eating quality."
The 12 carcases selected for the show comprise seven Limousin cross, two Aberdeen-Angus cross, one Charolais cross, one British Blue cross and one Simmental cross. Six of the 12 were from home-bred cattle and eight were heifers and four steers.
The cattle came from the following suppliers:
Emslie Partners, Little Barras, Laurencekirk (AA cross heifer, 318.7kg, R4L); Thomas Taylor, Northholm of Grange, Lanark (Lim cross steer, 340.7kg, -U3); J Penny and Son, Shannas, Mintlaw (pure-bred Lim heifer, 370.6kg, -U4L); W. G. Henderson, Nether Toucks, Stonehaven (Char cross heifer, 349.6kg, -U4L); J. E. Adams, Drumfrennie, Crathes (AA cross heifer, 290.3kg, R4L); L. Grubb, Mountpleasant, Ardallie, Mintlaw (Br Blue cross heifer, 297.4kg, R3; Ian Pirie, Overton of Bruxie, Maud (Lim cross heifer, 322.6kg, -U4L); Netherton Farms, Garlogie (Lim cross steer, 367.4kg, U+3); D. M. Sharp, Tavelty Farms, Kintore (Sim X steer, 332.2kg, R4L); A. T. Brown, Holmhead, Bucksburn (Lim cross heifer, 324.8kg, R3); SAC, Craibstone, Bucksburn (Lim cross heifer, 337.2kg, R4L); and J. and M. Troup, Southbank, Skene (Lim X steer, 376.6kg, -U3).