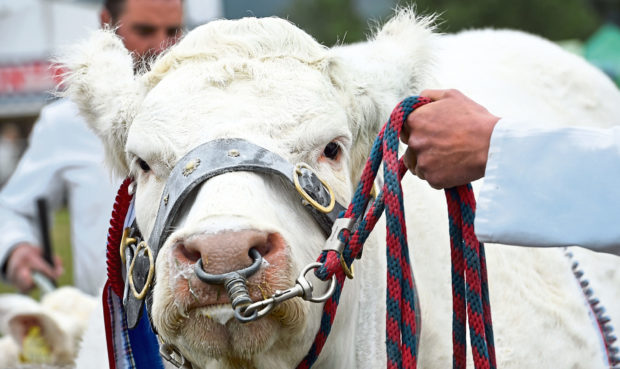 The clock is ticking to get cattle entries in for next month's online Scottish Agricultural Show.
The virtual show, which takes place on July 3-4, will give cattle breeders the chance to show off their best stock and be in with the chance of winning a champion rosette – and the opportunity to compete for the show's coveted champion of champions title.
The event, which is being hosted by The Press and Journal and The Courier, aims to fill the void left by the cancellation of summer agricultural shows due to Covid-19 restrictions.
Sponsored by EQ Accountants and organised in partnership with the Royal Highland Show, the show will feature livestock competitions, as well as trade stands, a food and drink section, and much more.
The cattle section of the show includes classes for beef and dairy cattle, and a quartet of judges are lined up to cast their expert eyes over the stock on offer.
The classes, which will have sections for both male and female cattle, are: Aberdeen-Angus; Beef Shorthorn; Highland; any other native beef breed; Charolais; commercial cattle; Limousin; any other continental beef breed; Holstein; Ayrshire; and any other dairy breed.
There will also be a young handlers contest split into two sections – one for entrants aged 10 and under, and one for those aged 11-18 years old.
The dairy cattle classes are sponsored by Duncan's of Banchory, while the beef section is sponsored by ANM Group.
Calling all photographers – your chance to enter this year's online Scottish Agricultural Show
The dairy section will be judged by Fife farmer Adam Lawson, who says he is looking for cattle with good legs and feet, a good overall balance, but mainly a cow "that will last".
The beef section judges are: Arbroath farmer Audrey Anderson for Aberdeen-Angus, Beef Shorthorn and any other native breed; Glenlivet farmer Michael Durno for Charolais, Limousin, any other continental breed and commercial cattle; and Fife breeder Donald MacNaughton for Highland cattle.
Ms Anderson, who runs herds of Hereford and Charolais cattle, said good locomotion and an animal with a "good, strong bone" were important to her.
Mr Durno, who has bred pedigree Simmental bulls up to 20,000gn, said animals needed to be able to walk well, have a nice head on them, and be practical.
He said: "A cattle beast needs to be able to forage on the side of the hill."
Mr MacNaughton, who runs the Rannoch fold of Highlanders in Kelty, said he will be looking for cattle that walk well, have a straight back and "look the part".
The show costs £5 per animal to enter and all entry fees will be donated to the Royal Highland Education Trust – the rural education charity run by the Highland Show's organisers, the Royal Highland and Agricultural Society of Scotland.
The society's chairman, Bill Gray, said: "The 2020 show isn't going ahead, but that doesn't mean that we can't see the incredible livestock that Scotland's farmers have produced.
"I would encourage as many breeders to take part so that we can shine a light on our resilient industry."
Details, including videos from the judges outlining what they are looking for, are on the website at www.scottishagriculturalshow.co.uk.
Entries close on June 19, so get your heifer spruced, your bull combed and your halters at the ready. It's show time!