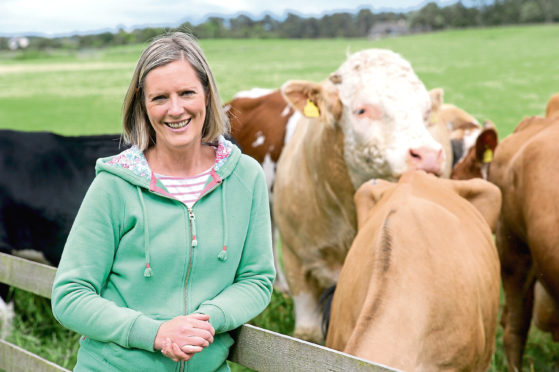 I must confess I am never ready for school to go back after the summer break.
The girls and I love the lack of routine and relaxed bedtimes and, lockdown notwithstanding, leisurely day trips and, latterly, sleepovers at Nana's, who the girls adore and lives by the beach – an end-of-holiday boon during the recent mini-heatwave.
Covid has obviously meant that all but the life-saving keyworkers have had their children at home for more than just the summer and parents juggling childcare and home school with work-from-home has undoubtedly been challenging.
I will miss the girls when they return to school and nursery, but it will be good to have time to address the various jobs to do here around the farm.
These include readying a newly vacant bungalow for let, supporting the rationalisation of the milk processing arm and helping drive its future growth, as well as forging ahead with a personal business venture.
The farming I always leave firmly in my other half's experienced and work-wounded hands.
Second-cut silage was successfully completed a fortnight ago during the convenient three consecutive days of sunshine; the silage crop has been so good this year, Nick has baled and wrapped much of the second cut since his silage storage is full to bursting. It is great quality to boot.
Meanwhile, the cows are in a rotation of the grass fields here at Rootfield – again the mix of sunshine and rain has seen the grass grow well between grazing cycles.
With all that's happened in the world so far this year it is hard to believe that it has been just over a year since Nick had his near-fatal accident on the farm when he fell through a roof and hit his head when landing in the concrete shed below.
Happily, a rather wonky clavicle remains as his only souvenir. His main complaint about the accident is that the herd is not currently up to full capacity in terms of his breeding programme, which he blames on the time he was forced to take off to convalesce.
Hopefully, he can focus on improving this as well as increasing milk volumes to pre-lockdown levels as our main milk buyer returns to full cheese production capacity again.
The herd really is where my hard-working farmer's heart lies and, thankfully, a few events have conspired lately to help free up some time to do what he loves.
Firstly, a new part-time employee has joined the ice-cream parlour team to assist Rosie with production and manage the cleaning and stocking of the honesty shed.
Secondly, a new tenant has taken over the vacant cafe unit at my parents-in-law's diversified self-catering steading at Daviot, which is soon to be transformed into a dedicated events and wedding venue.
Finally, it has been a welcome change not to attend the summer's annual calendar of outside catering events, cancelled on account of Covid, including the forthcoming Strathnairn Farmers' Vintage Tractor Rally, usually hosted in September at Daviot.
And while my brother usually helps manage the ice-cream sales for us at these events, the pressure on Rosie to make and supply the shows, keeping the honesty shed stocked as well as Nick supplying and delivering to trade customers is immense.
Besides, my brother is currently busy building on the success of his Milk Bar in Inverness by opening a second artisan coffee bar – selling our ice cream – with his business partner in the city's Crown neighbourhood.
We had already resumed the management of our branded ice-cream pod earlier this year to host pop-up events at the farm, like the Valentine's Waffle Barn, as a way of complementing and boosting trade to the honesty shed. Then Covid hit.
As lockdown restrictions are eased we hope to get back to outdoor events and launch a new and improved honesty shop to serve our local community.
Safe back to school.
Jo lives at Rootfield Farm in the Black Isle with her husband Nick, their daughters Daisy and Mollie and 120 cows.