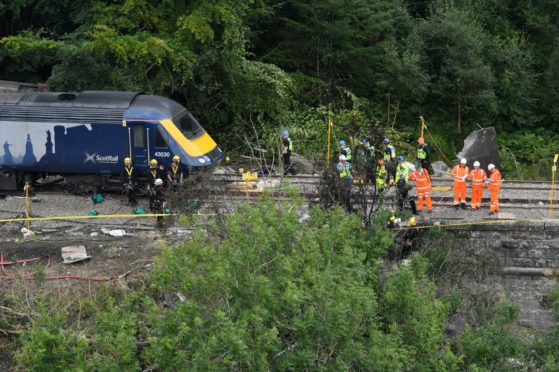 The passenger train involved in the north-east railway disaster hurtled along the ground at speed for 100 yards after derailing, before crashing into a bridge.
UK Government officials probing the Aberdeenshire derailment yesterday published an initial report outlining the tragic chain of events that led to the deaths of three men and left six other people needing hospital treatment.
The Rail Accident Investigation Branch (RAIB) is responsible for looking into the circumstances of rail crashes and similar incidents across the UK, in order to find their causes and make safety recommendations.
The organisation currently has members at the rural site of this week's derailment near Carmont, just west of Stonehaven.
They are working to collect evidence and "identify factors relevant to the cause of the accident and its consequences" as part of a wide-scale investigation.
Yesterday the RAIB published an initial report on the crash, which took place after a period of sustained rainfall.
The ScotRail 6.38am Aberdeen to Glasgow Queen Street service departed on time from Aberdeen and then from Stonehaven.
It then continued past Carmont on the southbound line until it was stopped by a radio message.
The message said there had been a report from a train driver on the northbound line that a landslip was obstructing the line between Carmont and Laurencekirk.
The decision was then made to return to Aberdeen, and the train was routed back over a crossover at Carmont onto the northbound line.
But after travelling around 1.4 miles, the RAIB said the train "struck a landslip and derailed".
The crash took place at around 9.40am and the driver Brett McCullogh, conductor Donald Dinnie and passenger Christopher Stuchbury all died at the scene.
The RAIB's early report said: "As the track curved to the right, the train continued in a roughly straight line for around 100 yards until it struck a section of bridge parapet, which was then destroyed.
"The leading power car continued over the bridge and then fell from the railway down a wooded embankment, as did the third passenger carriage.
"The first passenger carriage came to rest on its roof, having rotated to be at right angles to the track. The second passenger carriage also overturned onto its roof, and came to rest on the first carriage.
"The fourth passenger carriage remained upright and attached to the rear power car – it also came to rest on the first carriage.
"All wheelsets of the rear power car derailed, but it remained upright."
The RAIB has outlined the initial scope of the investigation.
Among its aims, it hopes to identify the full sequence of events and the actions of all those involved, and investigate the general management of earthworks and drainage, as well as the associated procedures designed to manage the risk of extreme weather events.
The RAIB investigation is independent of a separate investigation which is being conducted by the police, the Office for Road and Rail and the British Transport Police.