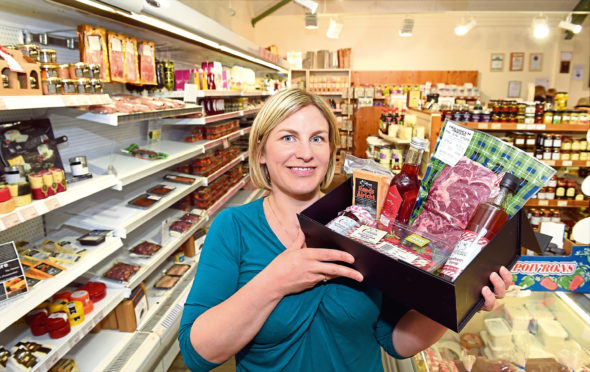 Farm shop owners are looking at ways to maintain increased footfall to their premises after Covid-19 restrictions saw a surge in customer numbers for many.
As shelves emptied in supermarkets and town centre food stores, customers looked further afield for staples and, in a new experience for some, visited their nearest farm shop.
Farm owners stepped up and pivoted their operations to include deliveries of produce and pre-prepared meals to existing and new customers, as well as making donations to local food banks.
But as Covid-19 restrictions continue to ease and people begin to return to work, farmers are looking at how to keep the customer momentum going.
Caroline Millar of Go Rural said a programme of live-streamed farm tours had boosted interest in farm visits and the organisation was "ramping up" its work with tourism body VisitScotland to encourage customers.
Various ideas are in the pipeline, including harvest-themed projects, as well as a festive-focused campaign scheduled to start in October on preparing Christmas food and sourcing ingredients directly from farms.
Ms Millar said the Scottish Enterprise agri-tourism monitor farm project would also be exploring how to develop customer engagement through digital streams, including loyalty programmes.
Anna Mitchell of Castleton farm shop and cafe near Laurencekirk said the firm had concentrated on having extra stocks of essentials and carried out deliveries six days a week at the height of lockdown, but this had dropped to two days.
The shop has opened a 60-seat eating area with socially distanced tables outdoors and introduced a one-way system inside the premises.
Mrs Mitchell said there had been a shift to awareness of where food comes from and farm shops have great provenance stories.
She was optimistic people would continue to visit.
She said: "Supermarkets provide convenience for people, but when it comes to providing a positive shopping experience and customers might be looking for a treat, then that is when farm shops come into their own."
Meanwhile, Fiona Smith of Westerton Farmers near Laurencekirk, which runs the Spud Hut self-service farm shop, said the firm had expanded its offering during the pandemic with the purchase of a second shed and the launch of a new premium meat brand, Drumsleed Meats.
She said: "We aim to give positive experience to customers who are delighted at the difference in taste between produce sold directly from the farm and products that are pre-washed and sold in plastic bags in supermarkets.
"People have been doing more home cooking recently and this has brought more of an interest in food traceability."