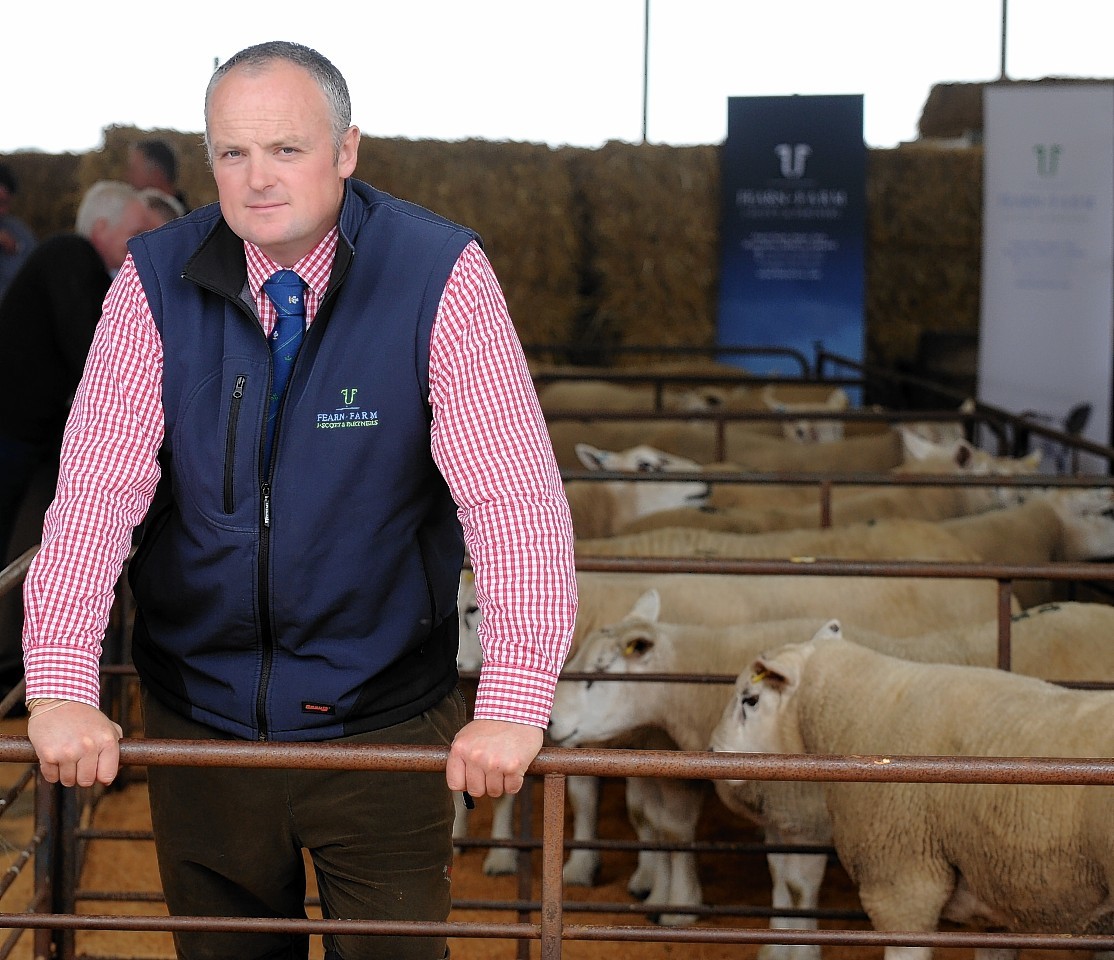 Keeping tabs on more than 4,000 sheep is no easy task, but John Scott takes it in his stride.
Together with wife Fiona, and his parents James and Janet, he runs Fearn Farm at Tain in Easter Ross.
The family's extensive sheep enterprise is spread across just over 4,000 acres – as well as the 1,000-acre home farm, the Scotts rent 300 acres of grazing ground nearby at Nigg and in 2012 they took on 2,600 acres of rough grazing in Sutherland.
They are also involved in a 100-acre contract farming agreement at nearby Portmahomack, and there is another grazing agreement that can take about 500 hoggs each year.
And if keeping 4,200 commercial and pedigree ewes wasn't enough, the Scotts also keep a herd of 130 Luing and Shorthorn cattle, including a 65-head herd of pedigree Shorthorns.
"There's lots of opportunities in the industry and we want to encourage young people to get involved," says John, who is a firm believer in not letting outside factors such as Cap reform bog you down.
"We as farmers need to focus on what we can influence; you may as well focus on the things that are within your control on the farm such as grassland management and health."
There are also opportunities for the sheep sector to hone in on genetics.
"Are you using the right breed for your situation? It should be about taking the farm you have got and finding breeds of sheep and cattle that work with that," said John.
Giving an insight into his burgeoning sheep enterprise, John says the Sutherland rough grazing land is home to around 800 Cheviot-based ewes, weighing around 60-65kg, as well as 60 Luing suckler cows.
The home farm houses bigger ewes – weighing between 75-80kg – with a focus on prime lamb production.
Of the home-farm flock, there are 3,300 Cheviot ewes and hoggs, as well as 150 pure Texels, 50 New Zealand Suffolk and 80 Aberfield.
The Scotts have the only Aberfield flock in Scotland. The breed, which is a hybrid of a Texel and a Bluefaced Leicester, has been developed by genetics company Innovis.
"An Aberfield with a Cheviot or a Blackie makes a good mule," said John.
He has held an on-farm tup sale for the past three years and has now announced plans to hold an on-farm store lamb sale, thought to be the first of its kind in Scotland.
The store lamb sale, which will see 1,500 lambs go under the hammer, is scheduled to take place on the evening of Tuesday, August 11. The tup sale, now in its fourth year, will take place on August 28.
John says the aim of on-farm sales is to create an event to meet buyers and get feedback on the type of sheep they want.
In addition, he wants to ensure that a good clearance rate at a sensible price is achieved.
"The last thing we want to be is too expensive," he says.
Moving the store lambs away sooner will enable the Scotts to free up grass and forage for ewes.
"The plan is that we move our lambs and concentrate on the breeding sheep," says John.
"I will be able to look after ewes better going into the crucial breeding period. Before I was taking the lambs from Sutherland and Nigg back here and putting too much pressure on Fearn."
He says rotational grazing is an option the family is considering to improve its grassland management.
And with falling subsidies – the Scott family expects to lose 40,000 euros (£29,415) as a result of Cap reform – John says he plans to expand the business further in the future.
"We have become a nation with a generation of farmers whose main focus is on maximising subsidy rather than focusing on the factors they can control themselves," he says.
"The next year is going to be really interesting because it will make farmers take a long, hard look at their figures and see how they are going to make things work with declining subsidies.
"I think we will expand due to the Cap. Another reason is having four kids, so we need to try and build a business for them to get involved in."
He believes expanding will also help improve his work-life balance.
"If we get a wee bit bigger, it all falls into place because it makes me step back and put the procedures in place for the guys to follow. My staff are fantastic," says John.
Highland Sheep
The Scott family is hosting the Highland Sheep event which takes place on Tuesday, June 9.
Organised by the Scottish branch of the National Sheep Association (NSA), the event will feature farm tours, allowing visitors to view the Scott family's sheep and cattle enterprises.
Presentations will be made at various stop-off points during the tour.
These include one with SAC consultant Derek Hanton, who will give an overview of the farming operation. Grassland expert Charlie Morgan will discuss the importance of soil and how to avoid compaction, while Quality Meat Scotland knowledge transfer specialist Michael Blanche will discuss how to make the most of grass.
Two seminars, chaired by NSA Scotland development officer George Milne, will take place at 11am and 1pm.
Each seminar will feature four speakers, each giving a 15-minute presentation.
Agri-consultant Andrew Macdonald, of the Laurence Gould Partnership, will discuss contract farming opportunities for farmers and new entrants, while Margaret Campbell, of accountancy firm Johnston Carmichael, will give advice on how to ensure your flock is passed on to the family and not the taxman.
The two other speakers are breeding consultant Dewi Jones, of Innovis, who will discuss breeding sheep which are fit for the future, and Quality Meat Scotland's head of economics, Stuart Ashworth, who will discuss the lamb market.
There will also be trade stands and breed displays by all the major sheep breeding societies, as well as the young shepherd of the year competition, educational exhibits, a stockjudging competition, sheepdog trial and demonstration of sheep shearing.
The day will conclude with a special show and sale of pairs of ewe hoggs of various breeds.
Entry to the event, which runs from 9am to 5pm, is £12 with a concessionary rate of £6 for NSA members and students.