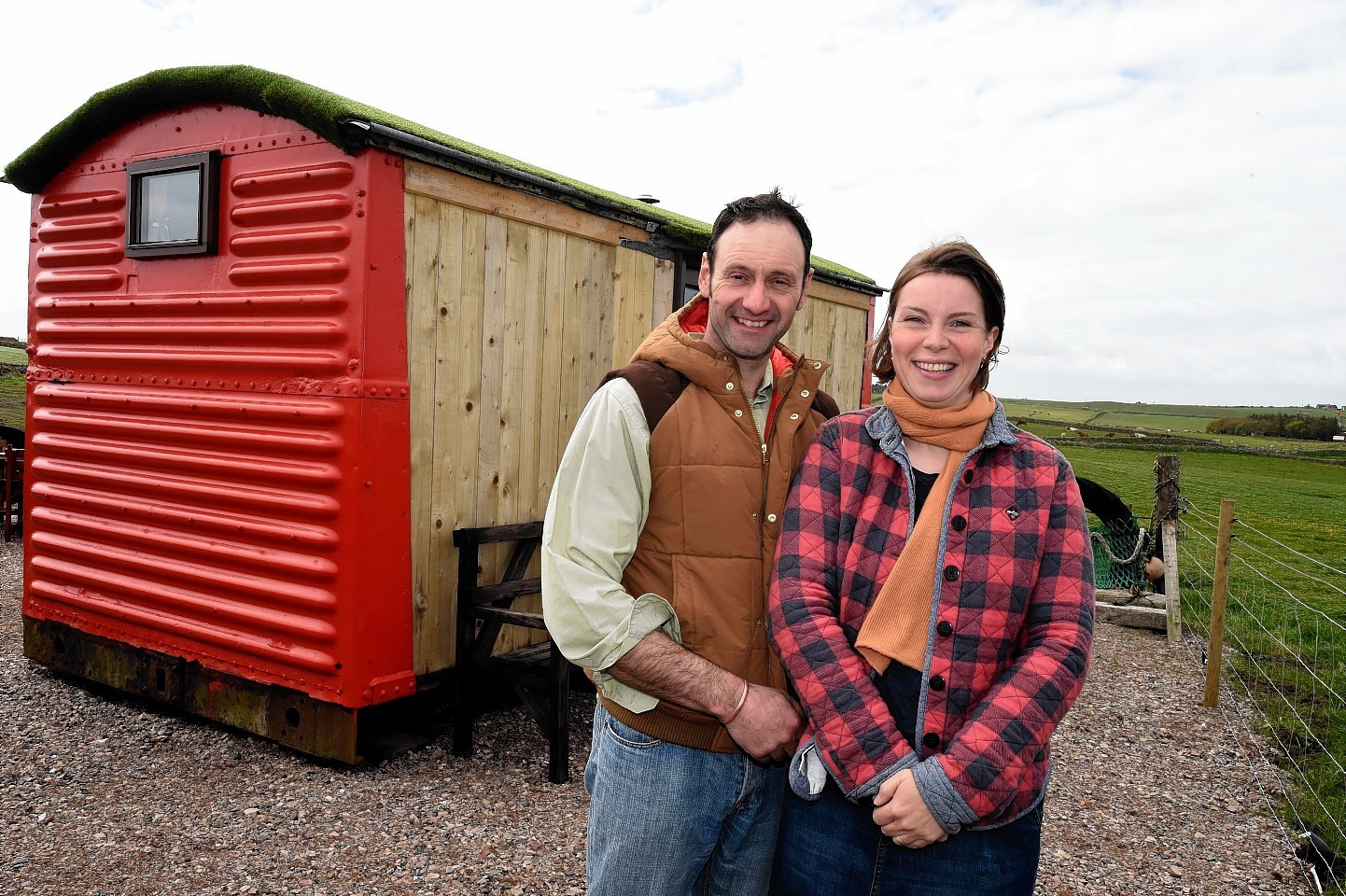 The Short family first got involved with glamping four years ago.
And now following the surge in interest in quirky holiday accommodation on farms, they have opened a third base for guests at their 200-acre farm at Rosehearty, near Fraserburgh.
The family, which comprises Carole and Matthew and their children Isabel, 7, and Thomas, 6, run a 300-cow suckler herd and a flock of 150 Dorset Horn ewes.
Carole says the inspiration for getting involved in glamping came from the family's own interest in staying in similar types of accommodation during their holidays.
Due to the location of the farm, which boasts breath-taking views over the north-east coastline, the decision was made to start up the business.
"When we started glamping was quite popular, but in the last few years it has really taken off," said Carole.
"It's a really big business – there's lots of people turning all sorts of weird and wonderful things into places to stay."
In 2012 the family bought its first hobbit – a circular wooden caravan produced in Fife – and after seeing how successful it was a second hobbit was bought in 2013.
This part of the business is called High Seas Hobbits.
One hobbit has a double bed and two single beds to accommodate four people, while the other sleeps two, or three including a child, in either a double or two single beds.
They can be rented either separately or together for larger groups.
They both come with electricity to power all the mod-cons – a kettle, microwave, fridge and TV.
A toilet and shower is located in a separate building beside the two hobbits.
The toilet, which won the Home Throne Award in the Loo of the Year Awards in 2012, is made from a disused whisky barrel.
Each hobbit also comes complete with a fire pit outside for cooking and tables and chairs for dining.
Now, the family has opened a third site for guests – the Coastal Carriage. Carole said: "We had absolutely no intentions of getting anything else but we heard of a railway carriage that was in danger of getting thrown out so Matthew rescued it."
The family paid £50 for the carriage, which had been used as a store for chicken feed at a nearby farm.
And following extensive restoration work by Matthew, it opened to guests in May this year.
"Everything in the carriage has been recycled or re-used," said Carole.
The carriage is a bit more rustic than the hobbits – it features an authentic bush shower from Australia, a double bed with a small bed for a child and a small kitchen area.
There is an outside toilet and barbecue area with outdoor seating.
The whole thing is fenced off with a tractor-tyre fence.
Both glamping businesses are managed full-time by Carole, who is part of the Banffshire Coast Tourism Partnership and the Fraserburgh Area Tourism Group.
"I gave up my job because I was juggling my job, the glamping business and the kids," she said.
"We are open all year round and from April to October we are really busy, particularly in June, July and August."
Offering advice to other farmers considering a move into glamping, she said: "I would definitely recommend this – it has lots of benefits.
"You get to meet a real variety of people. But if you do it you have to it properly – you need to have real attention to detail and you need to be on-hand."
Matthew said: "It's a full-time job on its own. You need to be on hand to top up firewood and answer any queries. Anyone going into it (glamping) must not underestimate the amount of time that's involved."
The couple say their business is split equally between visitors to the area and locals.
Carole said: "Quite a lot of local folk come here. We get folk from two to three miles away who want to do something a bit different."
On plans for the future, it's a case of watch this space for the Shorts.
Matthew said: "We need to see how the carriage does in the next year or so."