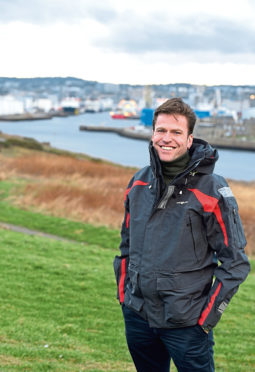 A former City banker is confident he holds the key to unlocking untapped oil reserves in the North Sea.
Ivan Starostin said his patented technology can extend the lifespan of oil and gas production in the region, generating millions of pounds in extra revenue and creating or safeguarding thousands of jobs.
Mr Starostin, 36, is chief executive of Aberdeen-based TenzorGeo – a fledgling technology firm which has gone from idea to field trial in the space of just nine months.
Its low-frequency seismic sounding system is designed to more accurately locate hydrocarbon deposits, pinpointing where it is best to drill.
Mr Starostin says it increases the certainty for planning and drilling wells, boosting the chances of appraisal success at a fraction of the cost of conventional methods.
It can nearly treble the chance of drilling a successful first well and make "small pools" of stranded resource more economic to exploit, he said.
The system is based on techniques used in geophysics for researching earthquakes that were adapted for studying onshore oil deposits in Russia, India and Latin America.
TenzorGeo's hermetically-sealed, ultra-sensitive seisometers are dropped into the sea in a grid formation to "listen" to the subsurface and accurately record low-frequency signals.
They collect data at depths of up to 20,000ft before an automatic resurfacing system recovers each device.
Oil and gas deposits absorb background vibrations, so the seismic readings deliver key information about the presence of hydrocarbons.
Mr Starostin, who became an investment banker "because it was trendy" and worked for companies including JP Morgan Chase & Co, HSBC and Citi before completing an oil and gas enterprise management degree at Aberdeen University, said the technology offered a "rocket science" breakthrough for the North Sea industry.
TenzorGeo's five-strong team partnered with German marine technology specialist KUM Umwelt-und Meerestechnik Kiel for a North Sea field trial with an unnamed supermajor earlier this month.
"It went great," Mr Starostin said yesterday, adding that equipment was deployed and recovered on schedule
He said: "TenzorGeo has shown that we've got what it takes to accomplish an offshore data acquisition operation in the North Sea.
"It was a great example of co-operation between project team, engineers and vessel crew.
"Data interpretation will now take place at Tenzor's supercomputer facility and we are already looking to undertake our next contract in the UKCS (UK continental shelf)."
KUM has been providing systems for seismic research for more than 20 years and is looking to gain a foothold in the oil and gas exploration market.
Onno Bliss, the firm's business development manager, said: "We have been working 24/7 to meet the deadline we agreed with TenzorGeo because of the importance of this contract.
"This technology will have a major role to play in the future because, at the end of the day, it makes appraisal less expensive and more environmentally friendly."
TenzorGeo was one of the start-ups involved in the Oil and Gas Technology Centre (OGTC)'s inaugural TechX Pioneer accelerator.
The 16-week TechX programme led to the field trial and also interest from two venture capital firms.
Mr Starostin said the initiative gave him the chance to talk to senior executives, who he may never otherwise have reached, in an industry that is often slow to "jump on promising technology".
Figures suggest the UK North Sea has 3 billion barrels oil equivalent of technically recoverable, but stranded, hydrocarbons in small pools.
OGTC is driving efforts to slash in half the cost and time to develop these resources.