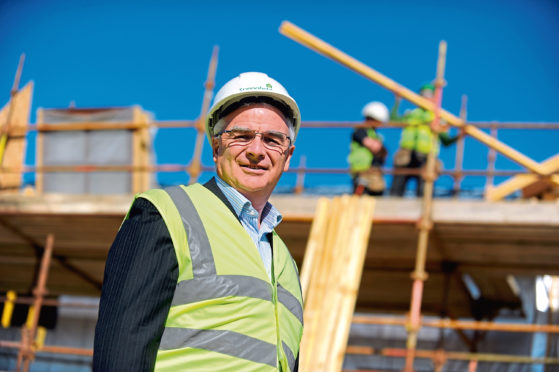 Business leaders in Moray and the Western Isles were among the winners at EY's Entrepreneur of the Year Scotland 2019 awards last night.
Sandy Adam, chairman of Elgin-based construction firm Springfield Properties came away with the gong for sustained excellence.
A management trio from Isle of Harris Distillers – managing director Simon Erlanger, founding director Anderson Bakewell and chairman Ron MacEachran – scooped the societal impact award.
Two of the seven accolades, including the prestigious entrepreneur of the year title, went to Poonam Gupta.
Ms Gupta, who also won one of the two scale-up awards, is chief executive of Greenock-based PG Paper.
Other winners included Craig Anderson, chief executive of the Scottish Salmon Company, headquartered in Edinburgh, honoured for transformational leadership.
The ceremony took place in Dundee, at the city's recently-opened V&A museum, which was deemed to be the ideal location due to its "entrepreneurial and innovative spirit".
Mr Adam's path to success was described by judges as "a very compelling story".
They added: "Having started out as a farmer before moving to property development in the 1990s, running renovations from his bedroom, and hiring his first employee in 1996, he now provides employment for 500 staff and over 2,000 work on one of his projects every day.
"Sandy has grown the business from £5 million in 2000 to over £100m today."
Isle of Harris Distillers was hailed as "a great example of profit for purpose", with the judges adding: "Everything they do is to benefit the people of Harris and the Outer Hebrides, and to support natural resources.
"Their goal is to provide the youth of the community with vocational skills and to see employment opportunities close to home."
All the winners from last night's event now go on to the UK final in November.
Mike Timmins, EY partner and leader of the EY Entrepreneur of the Year programme in Scotland, said: "All our winners and finalists have displayed excellence in their field and are role models of the exceptional entrepreneurial talent we have in Scotland – we celebrate each and every one of them.
"Great vision and strategy have been central to the success of these inspirational leaders, and despite the wider uncertainty in our local and global economy, Scotland's business leaders have proven resilient, ambitious and determined. They are unstoppable, and long may we support that."