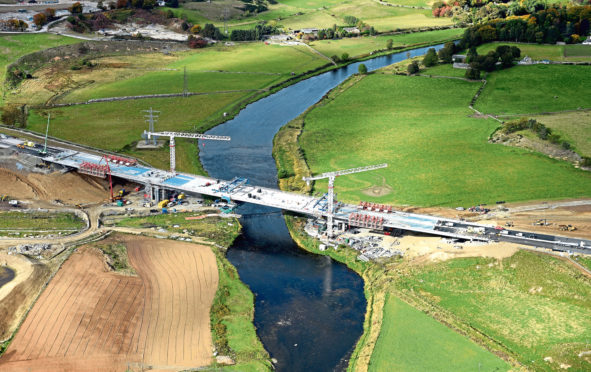 Construction group Galliford Try has counted the cost of the Aberdeen bypass in its latest annual results.
The firm reported pre-tax profits of £104.7 million for the year to the end of June, a fall of 27% from a year earlier, when it registered a £143.7m surplus.
Total revenue slid to £2.86 billion in the latest period, from £3.12bn previously, as the company faced "challenges" in its construction division.
Exceptional items in the year totalled £50.8m, more than half of which – a sum of £26m – was for additional costs involved in completing the Aberdeen Western Peripheral Route (AWPR) earlier this year.
A further £6.3m was also AWPR-related, resulting from "the impact of our updated accounting policy on claims from other parties".
AWPR lead contractors Galliford Try and Balfour Beatty were left shouldering hefty extra costs after a third partner, Carillion, collapsed. Galliford Try said it was continuing to negotiate a "significant" claim against the client – the Scottish Government – on the AWPR contract, while simultaneously preparing for legal action should these discussions "not reach a satisfactory conclusion".
It added: "Over the last three financial years, we have recorded £152m of exceptional losses in relation to AWPR.
"Consultants have advised an expected recovery of around £100m to Galliford Try, although the total assessed value in respect of the claims under the contract is over twice that level.
"Negotiations remain in progress with our client but the final outcome is unknown and, when concluded, could result in a material difference to the position assumed."
It comes after Galliford and Bovis Homes revealed on Tuesday they had restarted talks over a £1.1bn house-building deal.
Yesterday's figures revealed pressure on Galliford's house-building arm, which suffered a 6% drop in unit sales to 3,229. Average prices for private sales were down by 4% at £351,000.
Chief executive Graham Prothero said the company "continues to see good demand in its building and infrastructure divisions".