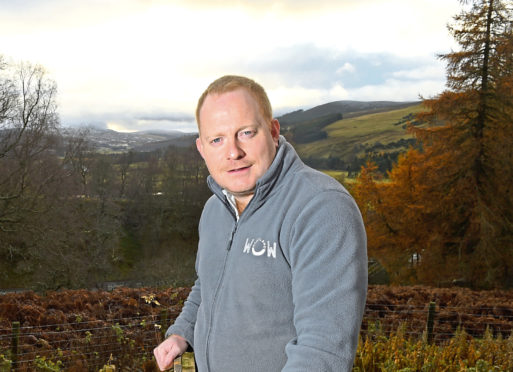 Each week we ask small businesses key questions. Here we speak to Gordon Pearson who runs Wow Scotland Tours, together with wife Kay, in Tomatin.
How and why did you start in business?
I honed my business skills at Inverness Royal Academy, where I ran an unofficial tuck shop, my bedroom doubling as a warehouse. I once had 2,000 cans of Safeway Select Cola piled from floor to ceiling.
After visiting Australia at 18 I knew I wanted to run a tourism business and took every opportunity to further my experience.
I graduated in economics from Strathclyde University and afterwards worked a season in Austria as a hotel ski guide. Not only did I get to ski all day and every day, but I also met my wife Kay, the other half of Wow Scotland.
My first tour-guiding job was at Tomatin Distillery and I went on to complete an apprenticeship as an outdoor instructor.
Following an 18-month stint in youth work in Edinburgh I moved back to Austria with Kay and again worked in skiing before getting a "real job" as an analyst in Vienna.
How did you get to where you are today?
An analyst's life wasn't for me, so three years after leaving Scotland we returned home and I started Wow Scotland. Initially offering hiking tours, I quickly shifted to sightseeing and we haven't looked back.
One of the great motivators was the birth of our first son. I didn't want to be out delivering tours all day, so I set about building a business that would let me spend time with my family.
Who helped you?
Kay has been there from the start and it's very much a joint effort. We are rated number one on TripAdvisor and this really helped.
Strathclyde University's Hunter Centre for Entrepreneurship provided me with invaluable knowledge, insight and inspiration.
Business Gateway gave financial assistance right at the start and, more recently, Highlands and Islands Enterprise has helped us bring our business to the next level.
Our guides, past and present, are the icing on the cake and it's also great having the Federation of Small Businesses fighting our corner.
What has been your biggest mistake?
No big mistakes, just a lot of little lessons we've learned along the way.
What is your greatest achievement?
Growing a great business that we truly believe in, while also enjoying quality family time.
If you were in power in government, what would you change?
I'd bring in legislation forcing businesses to be eco-friendly. We are passionate about it, making sure our suppliers use compostable packaging, banning plastic bottles, offsetting our carbon emissions through tree planting, and engaging in daily litter-picks on our tours.
What do you still hope to achieve?
The top accolade for a Scottish tourism businesses is a Thistle Award, and we'd love one. To be recognised as the best among our peers would be a real achievement.
What do you do to relax?
Telemark skiing, which is skiing without your heel being fixed down. They say "free your heel, free your mind" and it's true.
What are you currently reading, listening to or glued to on the TV?
The weather forecast and online forums, trying to work out where I can ski.
What do you waste your money on?
We were wasting a lot of money heating our home office, so I've installed ground-source heating, solar panels and other energy saving technologies to help save money and protect the environment.
How would your friends describe you?
Mr No Fun in the summer but "living the dream" in winter.
What would your enemies say about you?
I once received an aggressive email from a woman saying we should stop visiting Skye as we contributed nothing to its economy. I pointed out that we work with a Skye deli to make our onboard meals, actively encourage people to spend money in local shops, and have donated money to help with the upkeep of community toilets. Then there are the well-paid jobs we've created. She never replied.
What do you drive and dream of driving?
You can't miss me when I'm behind the wheel of one of our two purple and green luxury mini-coaches. I dream of driving an all-electric version, and hope it will become reality soon.