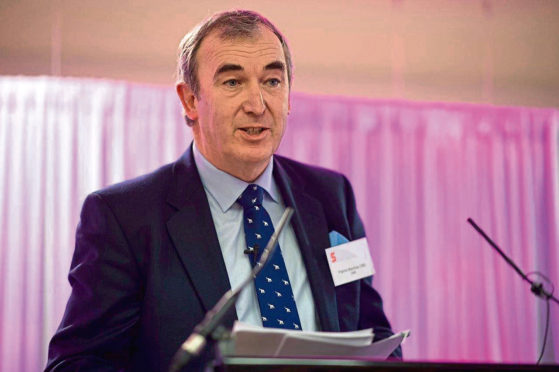 A £20 million-plus food and drink development "hub" for the north-east will open in 2022 after a £10m commitment of Scottish and UK Government cash, it has been announced.
Economic development body Opportunity North East (One) said the funding, secured through the Aberdeen City Region Deal, was the single largest public sector investment in the food and drink industry in Scotland.
The announcement was made at shortbread-maker Dean's of Huntly, where branding for the new centre, called SeedPod, was unveiled.
Glasgow-based Keppie Design has been appointed architect and lead consultant.
Led by One, which is backing the project with £4.4m of its own cash, the centre – to be built on Scotland's Rural College's campus in Aberdeen – represents an investment of £21m in the north-east food and drink industry.
It is the third sector-specific innovation "hub" project being delivered via the Aberdeen City Region Deal, following investments in facilities focused on technology and life sciences.
One said SeedPod would provide the tools, knowledge and training to help fledgling and established businesses to identify new markets, drive growth and adopt leading-edge production technologies.
It is also intended to create an "innovative environment for the development of products that meet burgeoning consumer demand for novel food types".
One food, drink and agriculture sector board chairman Patrick Machray is taking on the additional role of chairman of Food Hub (Nes), the new company formed to deliver the SeedPod project.
Mr Machray said: "One's ambition with industry is to grow the sector in the region by 5% per annum, doubling outputs and exports by 2030.
"SeedPod will deliver this ambition by building upon One's existing food, drink and agriculture activity, and driving further engagement, growth and innovation. It will be the go-to place for evolving existing businesses, inspiring and developing the next generation of producers in the region, and delivering national impacts for the sector."
More than 22,000 people are employed in food, drink and agriculture in the north-east.
Food and drink manufacturing businesses in the region together generate turnover of £2.2 billion, 22% of the Scottish total for the sector, and an estimated £315m gross value added in economic impact annually.
Nearly one third of the north-east turnover figure (32%) is generated from fishing and seafood production, with drink (23%), baking (13%), meat (11%) and "other" (21%) making up the rest.
Bumper investment expected to yield thousands of jobs
Scotland Office Minister Douglas Ross said the new food and drink "hub" was another example of massive investment that would create thousands of new jobs in the region.
Mr Ross added: "The UK Government and partners' £826 million Aberdeen City Region Deal is making a huge difference to the region's economy and this is one of the many projects we are funding.
"The establishment of a food hub in the north-east of Scotland is great news, as it will provide expert advice to both new and established companies in how to drive growth for the world-leading Scottish food and drink industry.
"The UK Government is investing more than £1.4 billion to city region and growth deals across Scotland, with more to come. This is helping to create thousands of jobs and opportunities as we bring sustainable growth and prosperity to every part of the country."
Scottish Further/Higher Education and Science Minister Richard Lochhead said: "This new agri-food and drink hub reiterates the Scottish Government's commitment to investing in Aberdeen and the north-east, and enhancing the region's already enviable reputation as one of the country's richest larders in terms of quality produce.
"We and the UK Government are both investing £5m in the facility, which begins construction this year.
"Part of our wider £125m investment in the Aberdeen City Region Deal, the hub's opening marks a key stage in an already-strong partnership between industry and academic institutions in the area, including our two Aberdeen universities and the rural college. Our vision is that the hub will appeal to ambitious businesses that need to develop and commercialise their products.
"I am certain its opening will spark opportunities for business to grow by offering guidance on just the types of leadership development and technical management skills, for instance, which can drive the Scottish food and drink industry forward."
The Aberdeen City Region Deal is a partnership between Aberdeen City Council, Aberdeenshire Council, Opportunity North East, the UK Government and Scottish Government.