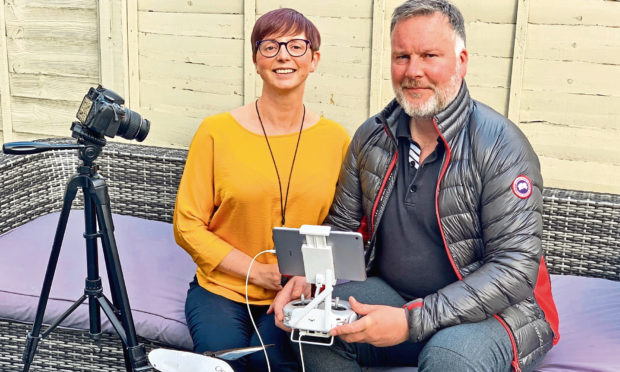 Each week, we ask small businesses key questions. Here we speak to Chris Jones, co-partner in Aberdeen aerial photography firm Chris Jones Images
How and why did you start in business?
After suffering mental ill health in my previous job I decided it was time for a change. I wanted a job that gave me work satisfaction.
I have always loved photography and had spoken to my wife, Lindsey, for a few years about the idea of buying a drone. She bought me a drone and found me a course with the Resource Group, so I could get my Civil Aviation Authority Permission for Commercial Operations licence.
There were very few jobs in this particular sector in Aberdeen, so we set up our own business. Chris Jones images was established last July.
I love working with the drone as you get to see the world from a whole new perspective. Having our own business allows me the freedom to choose the type of work I do.
How did you get to where you are today?
After losing my mum when I was 24, I decided it was time for a fresh start and moved to Aberdeen from Elgin.
I worked as a dispensing assistant and optical lab technician at an optician's for six years.
During this time I was lucky enough to meet Lindsey, who was a newly qualified optometrist, and we have been happily married for 10 years.
In 2006 I started working as a technician in a telecommunications company. I worked both on and offshore, installing, repairing and programming radio communication systems. This gave me opportunities to travel to many places, including Angola, Holland, Norway and Shetland.
Who helped you?
My wife has been my biggest supporter. She is a partner in the business and always pushing it forward.
She has designed our website, social media accounts and business cards, as well as doing lots of networking.
We joined the Federation of Small Businesses after being contacted by a local representative. It offers lots of support.
Support from (networking group) BNI and our fellow chapter members has also been fantastic.
Business Gateway supported us through its early employer programme.
Finally, our friends and family have all been extremely supportive.
What has been your biggest mistake?
Thankfully, I think I have made very few. I did invest in a new drone after a software malfunction, so I suppose that could be classed a big expensive mistake.
What is your greatest achievement?
Having a very happy marriage for 10 years with Lindsey and also having her parents still speaking to me.
If you were in power in government, what would you change?
I would be useless in government but would love to see more help for start-up businesses. It would also be great if politicians actually stuck to their policies once they got into power.
What do you still hope to achieve?
Covid came along just as the business was starting to gather momentum, but I'm hoping to see it flourish over the next year or two.
It would be great to be able to take on our first employee – someone who can act as a permanent observer for when I'm flying, and also help with our website and social media accounts.
What do you do to relax?
I love spending time with my wife and our two dogs, Madie and Maple, on the beach or in the countryside. I also love mountain biking as I'm too old for football.
What are you currently reading, listening to or glued to on the TV?
The Last Dance, which is about the Chicago Bulls, as I'm a massive Michael Jordan fan.
I've also been glued to Formula 1: Drive to Survive as we have both been missing our Sunday Grand Prix fix. I love listening to Faith No More and Metallica.
What do you waste your money on?
I do love a hot-out-of-the-oven pair of Nike Air Jordans – it's now 25 pairs and growing.
How would your friends describe you?
I think they'd say I'm quiet, friendly and funny.
What would your enemies say about you?
They haven't told me their thoughts but keep your eyes on our Facebook page.
What do you drive and dream of driving?
I drive a 2007 BMW Z4M Coupe and would love to own a VW California camper van, so I could take Lindsey and our dogs exploring around Scotland.