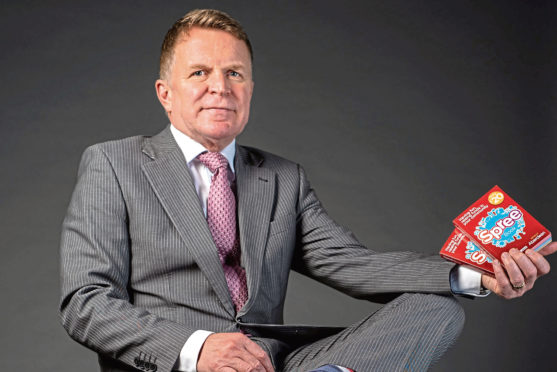 Each week, we ask small firms key questions. Here we speak to David Wood, the managing director of Aberdeen-based Spree Publications
How and why did you start in business?
I lived in Detroit, Michigan, my wife's home town, for about three years working for a similar business.
On moving back to Aberdeen, in 1999, I realised there were no voucher companies in Britain, let alone the Granite City. I felt it would be a great business to introduce to my home town.
So my wife, six-year-old daughter, newly-born son and I all moved across the Atlantic to pursue my dream of building a voucher business where I could promote local firms.
Spree quickly became a free platform for local firms to promote themselves in a popular annual printed book.
I always loved the win-win ethos of the business model. We help promote firms by attracting customers, with incentivised offers and great discounts, and at the same time reward schools, groups and community organisations by returning a portion of sales to their fundraising accounts.
How did you get to where you are today?
I had a clear vision of what I hoped to achieve, and worked hard to keep it in the forefront of my mind.
It's been challenging at times but one trait I learned from my upbringing was persistence and perseverance – traits that have served me well over the years.
Who helped you?
My wife, Denise, has been a constant source of support, help and encouragement to me over the 20 years we have been in business in Aberdeen, and also as we have expanded into other areas such as Dundee, Fife and Norwich.
Over the past seven years the Federation of Small Businesses has provided much-needed support and advice.
In particular, its 24/7 legal and employment support has been invaluable.
What has been your biggest mistake?
One of the biggest was trying to expand too quickly and not using the best judgment when it came to the franchise model. That and not going on Dragons' Den.
What is your greatest achievement?
My family, with three children – Jasmine, Lachlan and Olivia – who I am greatly proud of. They have been my biggest driving force in business.
If you were in power in government, what would you change?
I would do more to promote small, local, independent business owners and part of that would be to make city centre parking free, in order to encourage more people to visit. Also, I would have pedestrianised the centre of Aberdeen sooner and provided more outdoor attractions such as eateries, cafes, outdoor shopping centres and green spaces.
What do you still hope to achieve?
I still hold my dream to expand Spree. It is not just a great voucher system but a unique marketing platform for any business, and a service we offer free to local firms.
During the past few months we have spent time developing our SpreeApp which is basically the Spree book in a digital form.
It's a fantastic app, that allows users to always have their Spree book and savings with them on their mobile phone.
SpreeApp also gives business owners more flexibility to update, change or add to their offers throughout the year. In addition, it is a much more ecologically-friendly product.
It means we can reach out to more businesses, particularly those in smaller villages and communities who can now easily sign up through our website, create accounts, upload their discount offers and use the app to promote their business.
Schools, groups and community organisations can still use it as a fundraising tool, just as they always have with the Spree book.
What do you do to relax?
I'm a very keen tennis player as I come from a tennis family and started playing at a young age. I also play golf but I'm a better tennis player.
My Christian faith helps me relax, and to remember and prioritise what's really important.
What are you currently reading, listening to or glued to on the TV?
Craig Groeschel Leadership Podcast. During lockdown I have also started watching The Good Doctor, Succession and The Night Of.
What do you waste your money on?
My wife told me Sky TV, so I cancelled it and so far I haven't missed it.
How would your friends describe you?
I have no idea but I hope they would see the good intentions of my determined nature and loyalty, and that I'm always up for a good laugh.
What would your enemies say about you?
I would like to think I don't have any but if I do, I think they'd say they wished they could play tennis like me.
What do you drive and dream of driving?
I have an Audi TTS but the dream is to own an Aston Martin DB9.