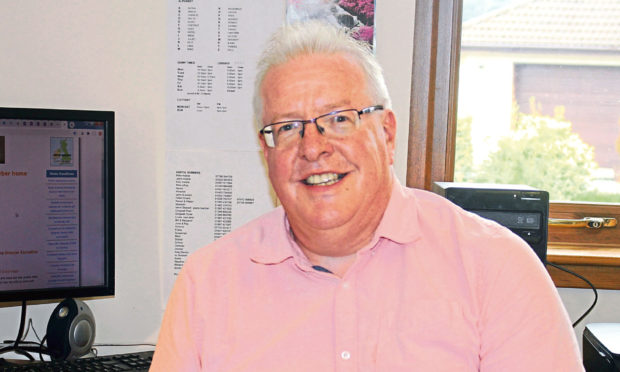 Each week, we ask small businesses some key questions. Here we speak to Mike Evans, who owns and runs EF Accountants in Rothiemurchus, Aviemore
How and why did you start in business?
I was born to Scottish parents in Montreal, Canada and, having moved to Scotland as a child, I trained to become a chartered accountant in Fife, meeting my wife there too.
On qualifying, I progressed to the role of finance director at a number of mainly family-owned, Central Belt companies, including a multinational electronics group, which I helped sell to a Singapore conglomerate. This set a pattern – I helped turn other people's businesses into desirable assets, only to find myself redundant when they were sold.
I eventually decided enough was enough; I would take control of my life and run my own business, providing part-time finance director services, general accountancy and business management. This would allow me to decide if and when I should sell.
Easter weekend 2003 saw my wife Jenni, our two-year-old daughter Katy and me starting new lives in Ross-shire, where we had bought a business.
How did you get to where you are today?
Through hard graft and employing good people.
We took over a long-established but slightly run-down accountancy business, AA Mackenzie & Co and by investing in IT and good, old-fashioned customer care we significantly grew it over the next 10 years. I also became a non-executive director of Firth of Cromarty Port Authority, NHS Highland and Birchwood Highland.
In 2012, with a view to continuing its expansion, I decided that in order to take the business to the next level I would have to sell it and become an employee for the next five-plus years.
This proved to be an unhappy experience and, in 2019, seeking autonomy and to once more rebuild a business and work in an ethical and caring business environment, I bought over a very small accounting practice in Aviemore on the retirement of Iain Forsyth, renaming it EF Accountants.
At EF Accountants we do what I'm best at – providing part-time finance director and accounting services and general business management and tax compliance advice.
Who helped you?
My wife, daughter and some brilliant colleagues who I still call friends have helped me achieve any success that has come my way.
The Federation of Small Businesses provides members with some really effective tools that can help firms of all types, while I'm also indebted to Iain Forsyth for his professionalism and assistance.
What has been your biggest mistake?
Selling our business much too soon in 2012.
Had I built it further I could have sold it for a lot more money and retired, thereby avoiding the period of low esteem and poor mental health that followed its sale.
Happily, I've successfully recovered, thanks to family friends, health professionals and especially Mhairi Callander, of Scott Moncrieff, who effectively saved my life.
I do believe that everything we face makes us who we are and, as a confirmed Christian, I try to use the experience to help others in any small ways I can.
What is your greatest achievement?
Helping Firth of Cromarty Port grow successfully over nine years and surviving and coming back fighting following depression.
If you were in power in government, what would you change?
I would separate health and social care tax from all other mainstream taxes, so we can have a sensible debate about the revenue needed to properly fund both the NHS and elderly care. Much like the old "stamp" or national insurance used to do.
What do you still hope to achieve?
Help even more people to succeed in business, but with the emphasis on good work-life balances and sustained positive mental health.
What do you do to relax?
Golf, playing for and running Ross County walking football team, watching Dundee United and Wolves and, of course, spending time with family and friends.
How would your friends describe you?
Loyal, honest and committed.
What would your enemies say about you?
If I have any, it would be "doesn't forget being wronged easily".