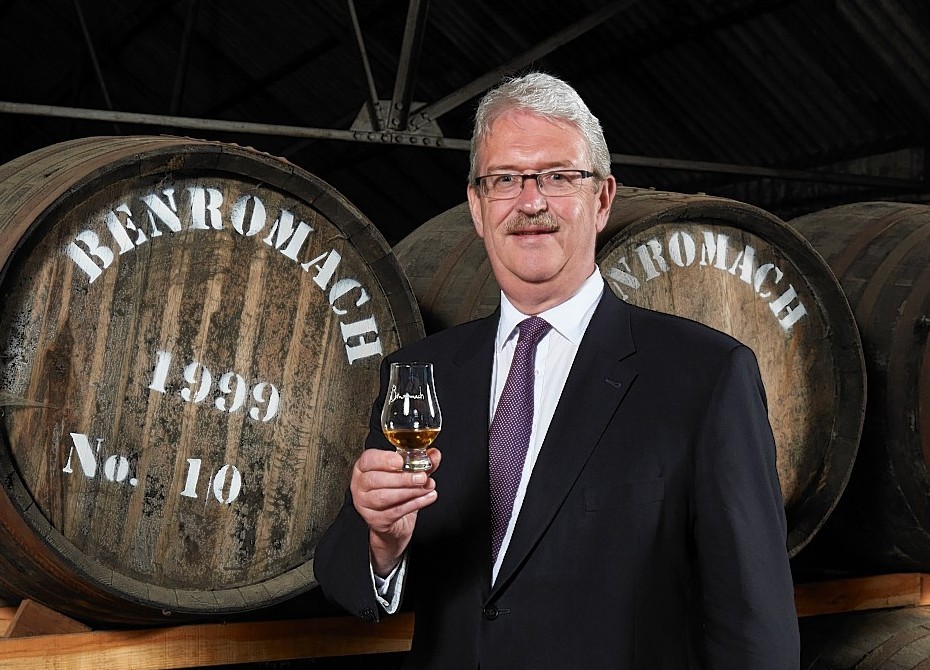 Moray whisky-maker Gordon and MacPhail (G&M) toasted a strong 2013/14 performance in the last set of figures before its boss steps down.
The Elgin firm – owner of Benromach distillery at Forres – said pre-tax profits surged by 23% to £3.2million, from £2.6million the year before, on turnover that was up by more than £3million to £24.7million.
Managing director Michael Urquhart, who steps down this week after seven years at the helm, initially alongside his brother, David, said he was delighted by the strong set of results.
He added: "We realised a long-held ambition to own a distillery when we rescued Benromach in 1993.
"It has proved to be a very sound business decision for us and we have slowly built the brand over time.
"Our investment has continued with the recruitment of additional staff, the launch of new packaging to wide acclaim and the completion of two new warehouses.
"But the story does not end there and further investment in the brand is already planned for the coming year, with the expansion of the visitor facilities and additional development of cask warehousing."
G&M said Benromach sales during 2014 were up by 27% in value and 12% in volume, maintaining strong growth seen in previous years.
Established in 1898, Benromach distillery changed hands many times and was virtually derelict when bought by G&M in 1993.
It was officially reopened, after a major refurbishment, by the Duke of Rothesay five years later.
G&M employs 138 people and its whisky portfolio includes more than 300 types of single malt, sold through various channels in the UK and exported to more than 50 international markets.
The family-owned and run firm – a Queen's Award for Enterprise winner – is also one of the UK's leading independent wine and spirit wholesalers as well as a retailer, owning the shop in Elgin where the business was founded in 1895.
Group sales by value in the year to February 2014 were up by £2million to £18million, with export sales rising by £1.2million to £6.7million.
G&M said export growth was particularly strong in France, Germany and Holland, but there was continued progress in the US, China and Hong Kong.
Mr Urquhart, who is handing the reins over to chief operating officer Ewen Mackintosh but will remain on the board, said: "The team who have made this such a good year through their hard work and vision are the same team who will continue to take the company forward in future years.
"The first half of the current financial year is already showing growth and we predict further increases in the second half of the year, with the launch of various new products.
"We're in good health for the future and our investment is reaping rewards."