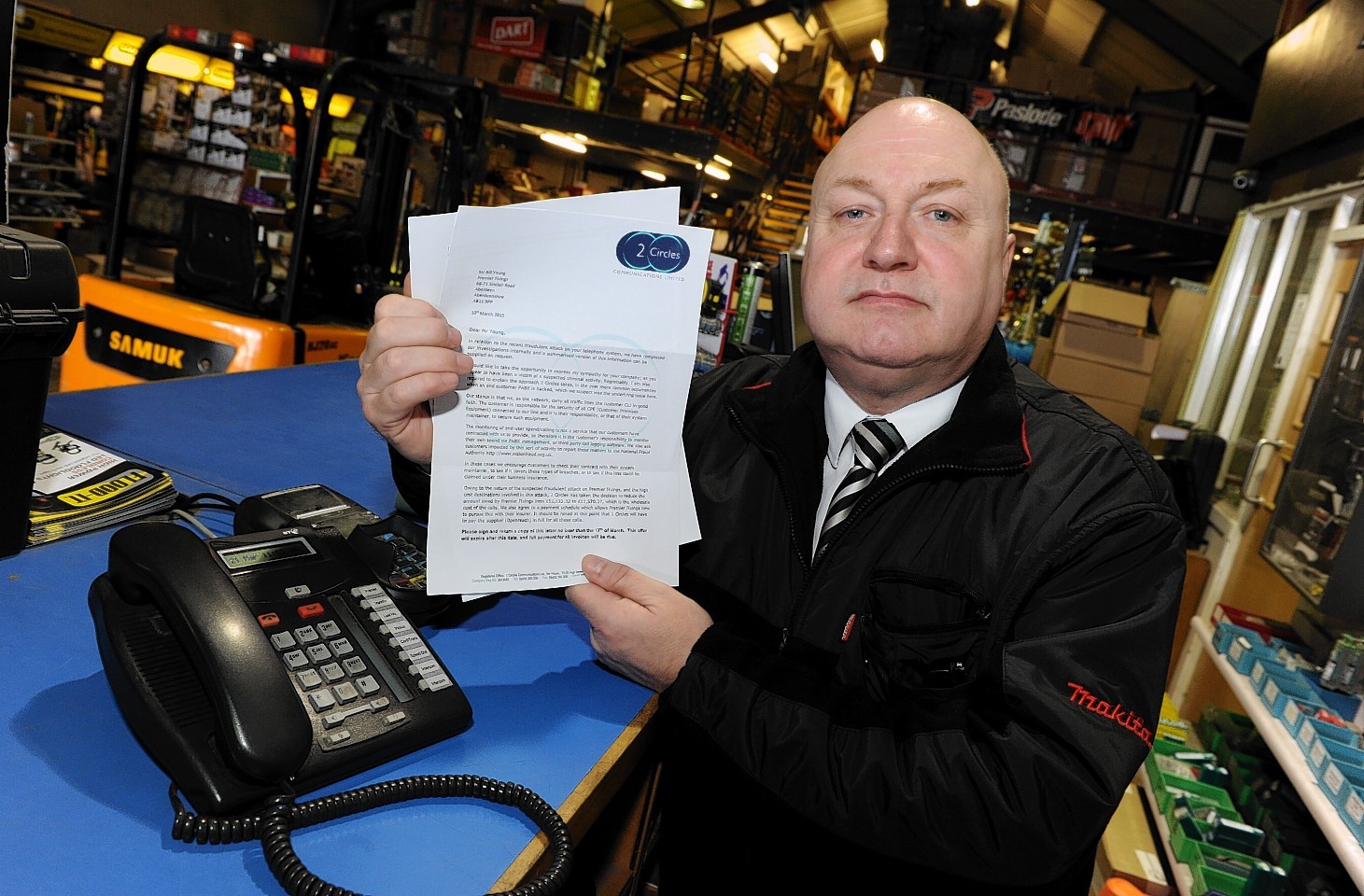 A north-east business was left with a £12,000 bill after its telephone system was hacked.
Bosses at Premier Fixing Solutions and Construction have told of their frustration after illicit calls were made from their phones.
Bill Young and Keith Scott said they first knew something was wrong when they tried to dial externally on March 8, but noticed the lines were dead.
Mr Young, 56, said he immediately called 2 Circles, the line provider for the building material supply firm.
He added: "They told us we couldn't dial up because a bar had been placed on the lines due to unusual activity.
"That was when we found we had a bill for £12,000 and we just freaked as the highest bill we've had is £400 or £500 a month."
After further talks with the UK-based communications firm, the business partners discovered the hackers had been tapping into the company phones and making premium calls from Sunday, March 1.
However, Andy Reid, director of 2 Circles, said that, although he sympathised with Premier Fixings, it was up to the business owners to make sure the phones systems were locked down.
He added: "These types of hackers get access because people don't have passwords on their phones.
"You can't leave your door unlocked have a stranger break in and rack up a huge electricity bill and then expect the provider to pay up.
"We have not yet billed Premier Fixings in respect to the fraudulent calls as the matter is still under discussion with the network."
Mr Young claims neither he nor Mr Scott had been made aware of the protective security available until now.
He said: "It's so frustrating trying to get to the bottom of it."
But Mr Reid said he sent an e-mail to the firm in July detailing the available security products.
He added: "We also send e-mails out to all clients just before Christmas and Easter as we feel customers are at the greatest risk during the holidays."
Mr Young has contacted the police about the matter.
A spokeswoman for the force confirmed the fraud team received a complaint but the investigation had now been passed on to Action Fraud, the UK's national centre for fraud and internet crime.
Holiday risk: Vulnerable time for businesses
Private Branch Exchange (PBX) fraud happens when hackers target lines from the outside and use them to make calls to premium rate numbers or overseas.
Businesses are most at risk during holiday periods if no one is in the office to notice anything unusual with the line.
In the case of Premier Fixings, hackers were tapping in on a Friday evening after 5pm and making calls over the weekends.
The calls continued on weeknights, stopping just before 6am when the first staff member came in for work.
Experts advise that all companies secure phones systems with strong passwords.
Access to voicemail from outside lines should be disabled and if international calls are not needed, providers can place a dialling restriction on foreign numbers.
Firms are also encouraged to use a strong PBX firewall and regularly monitor call traffic.
Anyone with concerns should contact their line provider which can outline any potential threat.