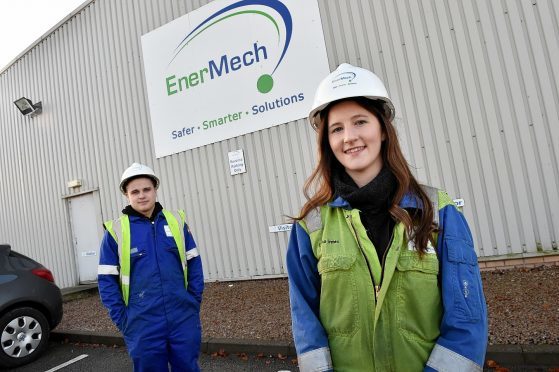 A mechanical engineering group has added the power of five to the Press and Journal's Apprentice 100 campaign.
Aberdeen-headquartered EnerMech, which provides services for the oil and gas sector, will recruit a quintet of apprentices during the next year as part of our crusade to boost youth employment prospect.
EnerMech, an employer of 2,300 people across 35 international locations, has a strong tradition of developing youngsters. It currently has 33 staff members working their way through four-year apprenticeship programmes with another 10 taking part in a graduate training scheme.
And EnerMech's drive to turn young people into multi-skilled engineers and technicians has been spurred on by the launch of its in-house training school.
Callum Innes, 17, is among the current crop of apprentices. He splits the working week with three days at college and two days of on-the-job training in EnerMech's process, pipeline and umbilicals division.
He said: "It's a big change from what I have been used to, but everyone has been very helpful and supportive. At EnerMech, you get time working in all the service departments to find out what your strengths are and where you will be most suited and I am looking forward to learning about the business."
Katrina Innes, 19, joined EnerMech two years ago as a mobilisation technician before going on to land an apprenticeship.
Ms Innes is now working in the hydraulics division and hopes to become a project manager in that field.
HR director Shirley Smith lauded the Apprentice 100 campaign's role shining a spotlight on the younger generation and for encouraging employers to give youngsters a chance.
She said: "We are delighted to take our place in the Apprentice 100 campaign. We value the contribution apprentices can make to our business, from the minute they enter the classroom and workshop, until they qualify as fully fledged technicians and engineers."
The apprenticeships will be advertised on the careers section of the EnerMech website: www.enermech.com/careers-opportunities