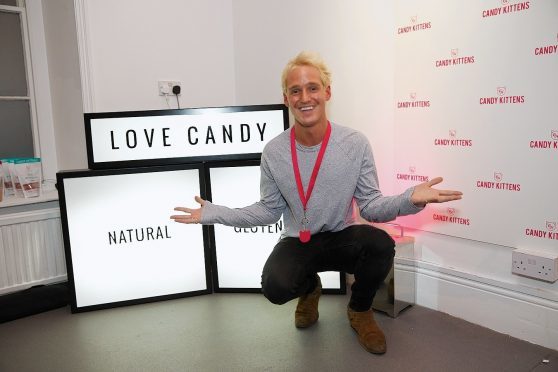 The owners of Dunphail Estate near Forres made a fortune from biscuits and now one of the family, flamboyant reality TV star Jamie Laing, is enjoying soaraway success with his own confectionery brand.
Laing, best known for his bleached blonde hair and party-loving lifestyle on E4's Made in Chelsea (MiC), expects sales of his Candy Kittens sweets to treble next year.
The 27-year-old launched his business plan on an early episode of MiC and unashamedly uses the show as a marketing platform to promote his sweets.
His great-great-grandfather, Sir Alexander Grant, invented the digestive biscuit in 1892.
Former Tory treasurer Lord Laing, Sir Alexander's grandson and Jamie Laing's great uncle, built the United Biscuits empire of food brands such as McVitie's, Jacob's, Twiglets, Mini Cheddars and Carr's before a private equity takeover in 2000.
Candy Kittens launched a crowdfunding campaign in November in an attempt to secure a £300,000 boost for new marketing.
The fundraising through crowdfunding platform Seedrs gives people the chance to buy shares in the business for as little as £12 – and the opportunity to be part of the UK's £1.1billion a year confectionery sector.
Laing and Candy Kittens managing director Ed Williams are aiming for £800,000 turnover this year and £2.5million in 2017.
Their sweets are already stocked in more than 1,700 stores across the UK, sold by retailers including Waitrose, Sainsbury's, Topshop and Tesco.
Nearly 2billion packs flew off the shelves last year and the firm expects a tiny increase in volume to generate a doubling of revenue over the next year.
More than 100 internships have also been created to form Candy Kittens' "sweet team" of student brand managers and "ambassadors", working alongside a small full-time London-based team.
"We have found a niche in the market for high quality sweets in fun flavours like sour watermelon and wild strawberry," Laing said yesterday.
He added: "We have ambitious plans for this year and beyond, including a vegetarian version and some exciting new flavours.
"We've built a loyal fan base for our products over the past few years and look forward to reaching a new group of customers now that we have nationwide listings with Topshop, Tesco and Sainsbury's."
Mr Williams said: "It really is an important time for the business and we are excited about moving into the next phase of growth.
"An important element of our success moving forward will be the response to the Candy Kittens crowdfunding campaign, which has been a huge success so far."
The Laing family recently sold their majority stake in Inverness firm PDG Helicopters to a management buyout team led by chief executive Jerry Francis, who had been with the business nearly 20 years.
Private-equity firm LDC – part of Lloyds Banking Group – backed the £20million-plus deal, which saw John Forrest, a former senior vice-president of Talisman Energy UK, join the business as chairman.