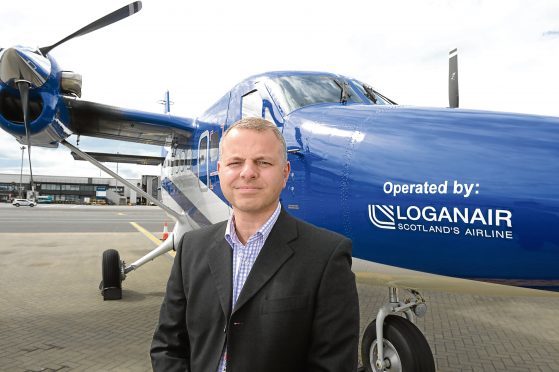 Loganair boss Jonathan Hinkles said yesterday the airline was already winning over passengers and pilots in its few weeks of operating as a standalone business.
The carrier is selling more seats than it did a year ago when it partnered Flybe under a recently terminated franchise agreement, he said.
And Loganair's new marketing tie-up with budget operators easyJet, Norwegian and WestJet, along with London Gatwick Airport, can help propel "Scotland's airline" to further success, he added.
Speaking on the day thousands of Ryanair passengers were hit by cancellations due to crewing difficulties, Mr Hinkles said Loganair was attracting pilots from one of its UK rivals.
A longstanding partnership between Paisley-based Loganair and Flybe ended on August 31, with the pair going head-to-head on Hebridean and northern isles routes from the start of this month. Mr Hinkles said: "The first few weeks have been very encouraging. Sales are running ahead of last year, when we were with Flybe. Changes we've introduced across the network mean passengers can check in earlier, or use boarding cards on their mobiles. We are securing good customer loads on services and performing well – making progress on all fronts."
Loganair's s involvement in easyJet Worldwide gives passengers access to a shared booking platform and also GatwickConnects, which takes care of luggage transfers between flights.
Mr Hinkles said the initiative, launched last week, put the airline in a "larger shop window than we would ever be able to achieve ourselves".