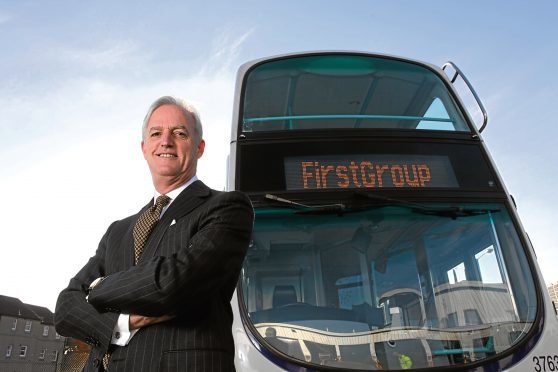 FirstGroup chief executive Tim O'Toole hailed a master plan for Aberdeen city centre as potentially "very positive" as the transport giant reported first-half results yesterday.
Granite City-based FirstGroup aims to focus investment within its UK bus arm on "markets where the local transport strategy recognises the importance of bus services in responding to the problems of congestion, air quality, parking and issues of social exclusion".
Mr O'Toole declined to say which markets were out of favour but added: "Aberdeen is doing some very exciting things.
"The development of the city's master plan is critical and continued access for buses to Broad Street is part of that. Good execution of the master plan will be very positive."
Discussions are ongoing about a potential change of course for Broad Street, which has been designated as a "partial pedestrianisation" area open only to buses and bikes.
Some councillors want all traffic to be banned, but this idea has met stiff opposition from bus firms which say Broad Street is a key part of their routes.
Mr O'Toole also said contactless and mobile phone ticketing trials in Aberdeen and Bristol had helped to speed up passenger boarding times. "This has got to be the way of the future," he added.
FirstGroup posted pre-tax losses of £1.9million for the six months to September 30, compared with profits of £11.1million a year ago, with figures impacted by a £21.6million gain from a property disposal in the group's North American Greyhound division during 2016-17.
The company highlighted a modest rise in adjusted operating profits to £89.4million, strong cash generation and "solid" performances from most of our businesses", offsetting the impact of hurricanes on its businesses across the Atlantic. First-half revenue grew to £2.77billion, from £2.56billion previously.
FirstGroup said it would receive a second-half boost from "our normal seasonal bias", cost efficiencies and new business, adding: "We expect to make further progress and deliver substantial free cash generation for the year as a whole."